Des Grands Jardins by Bourgeois Lechasseur Architectes
"The Grands-Jardins home is located in the Charlevoix region, specifically in Petite-Rivière-St- François, close to the Massif ski station. It sits on the mountainside on a rocky wooded site overlooking the St. Lawrence River. One of the major challenges of the project was to position the house so as to optimize the privacy and the views offered by the site. The home is built parallel to the street and at a slight angle so as to look out over the south and the river. From the inside, you feel you are in a ship's cabin. As the house is located on a deep slope, passersby can see the top level from the street, while on the river side, three above-ground levels elegantly rise to reveal a façade interconnected by a play of angles and glass.
This contemporary home stands out with its bold, vertiginous form. While the house is well anchored in the rock, the volume of white wood seems to lift from the ground as the lower level is set off by a series of large cement pilings. A wooden walkway connects the home to the parking area and gives an even more aerial look to the structure. The upper level seems to take flight with its galleries projecting into empty space. Without doubt the culminating point of the project is the immense overhanging living room that literally projects and opens onto the slopes of the Massif. These formal feats are achieved through the use of a steel structure; the client wanted to see this structure, mainly the bracings that frame the landscape.
The clients' plan is sophisticated. The home includes, on level 0, an exercise room and an office with large windows looking out on nature; a wine cellar blending into the staircase; a studio/workshop and access to the pool. The main entrance via the walkway is on level 1. A spacious closet, annexed to the hall, provides a place to store ski gear and other items. Also on this level are a multipurpose room with fireplace and the children's bedrooms with bathroom. A staircase set in a tunnel of red cedar invites you up toward level 2. This voluntary compression around the staircase leads to a spacious, light-filled area that includes the kitchen, dining room and living room. This space has windows on three sides and reveals the structural steel skeleton. The exposed concrete floor and the steel lend an industrial feel while the wood floor and the central fireplace soften the rooms. The view is breathtaking. Another feature: the cement kitchen counter seems to be floating above the floor and extends out beyond the base. In addition to the terraces, this aerial level includes the master suite with bedroom, walk-in closet and private bath.
This home is inspired by contemporary Scandinavian villas and makes a proud statement in the Quebec landscape. The formal lines are extreme but the choice of materials, the horizontal white wood and the vertical red cedar laths, unify the project and help integrate it into the site."
Photos by: Bourgeois Lechasseur Architectes & Alexandre Guilbeault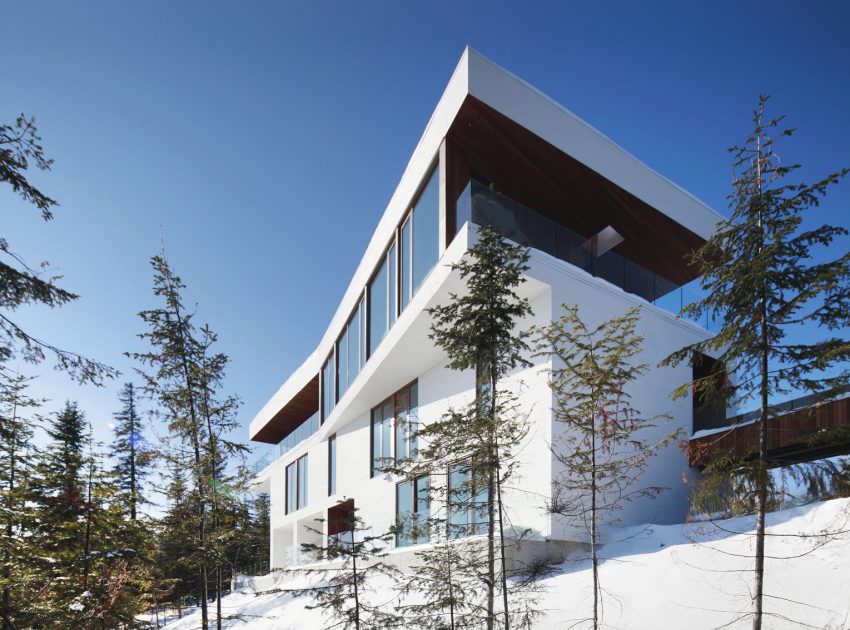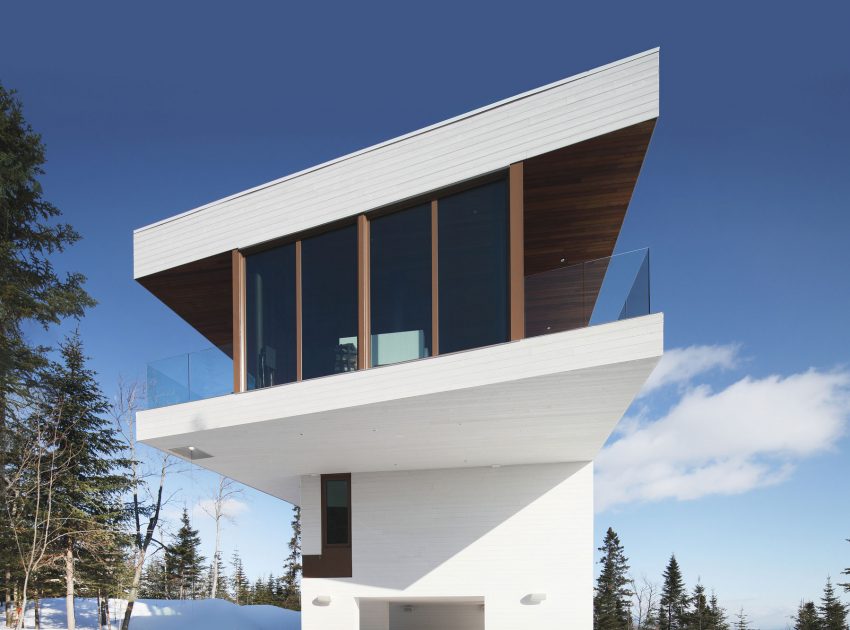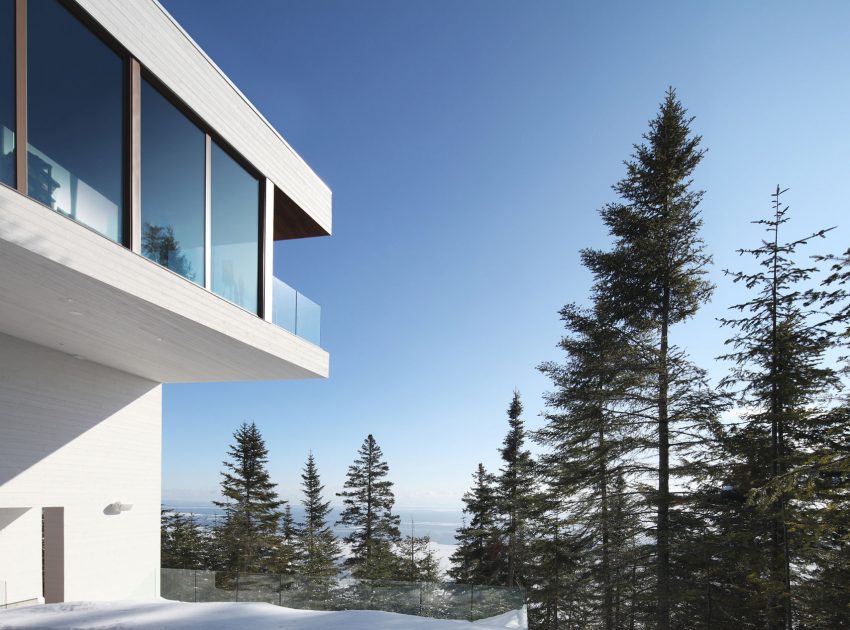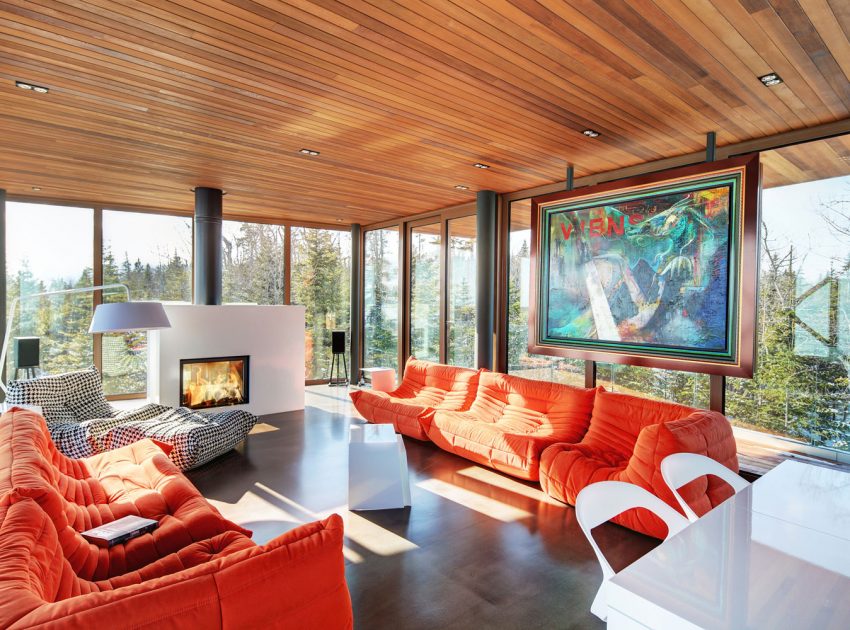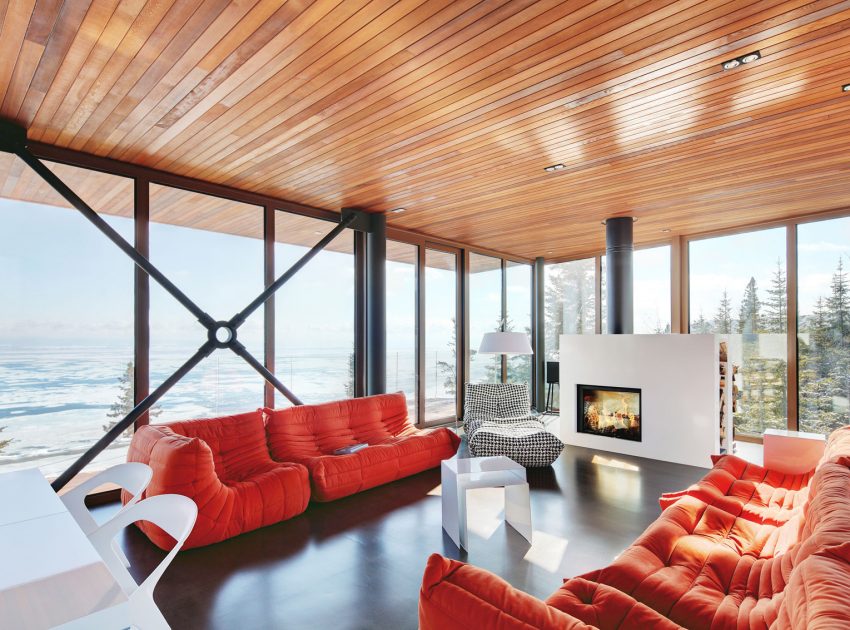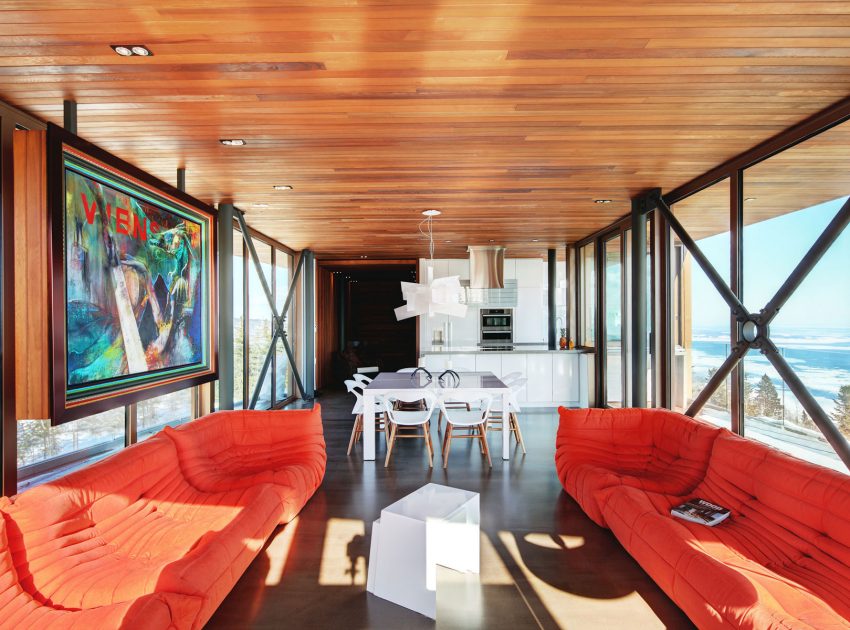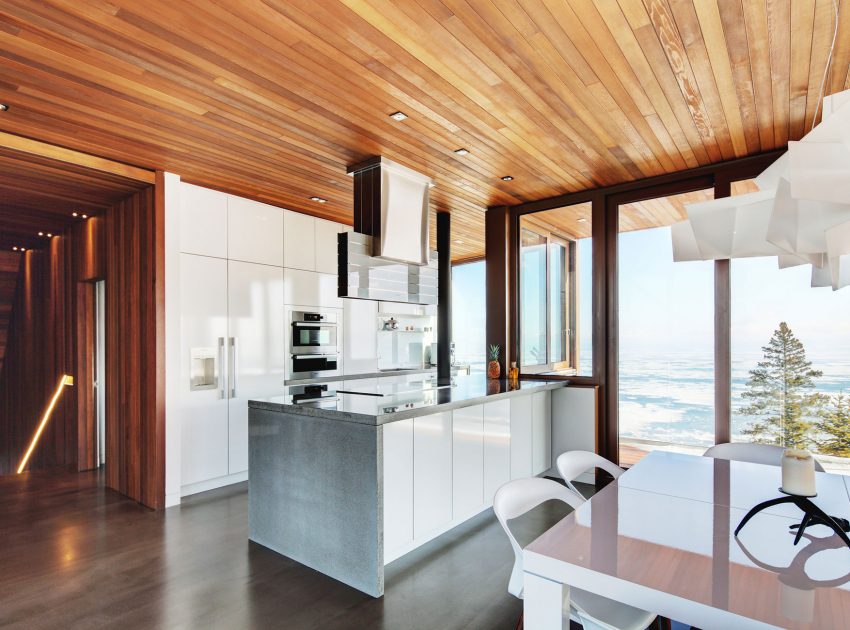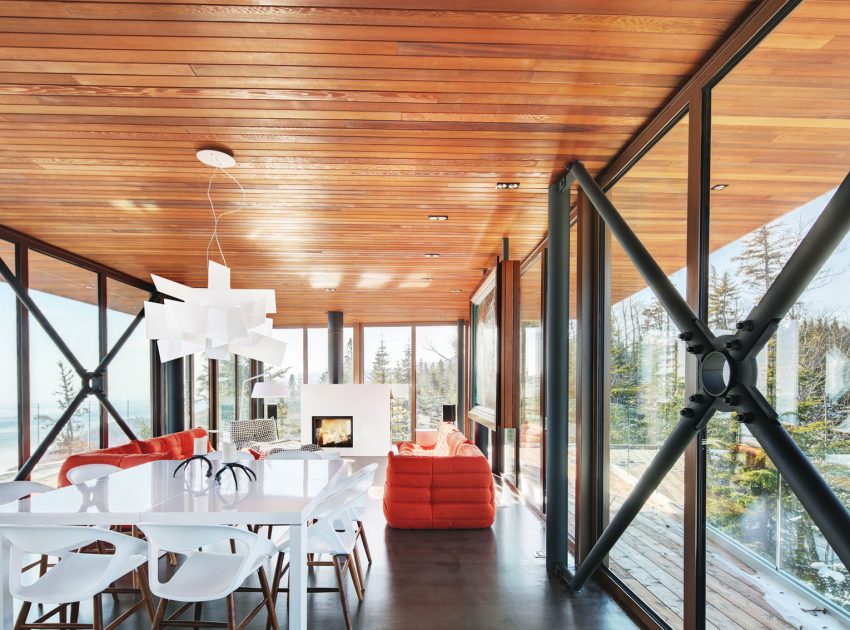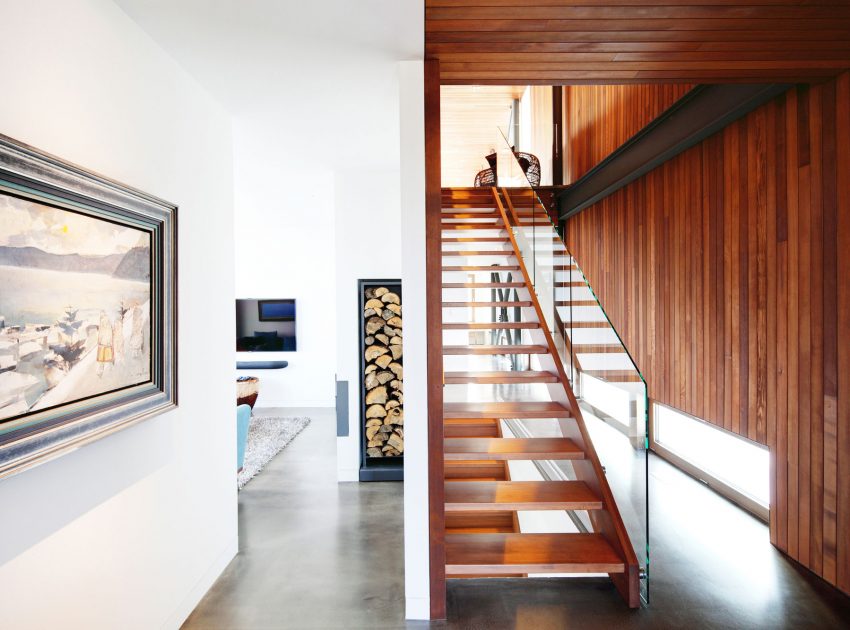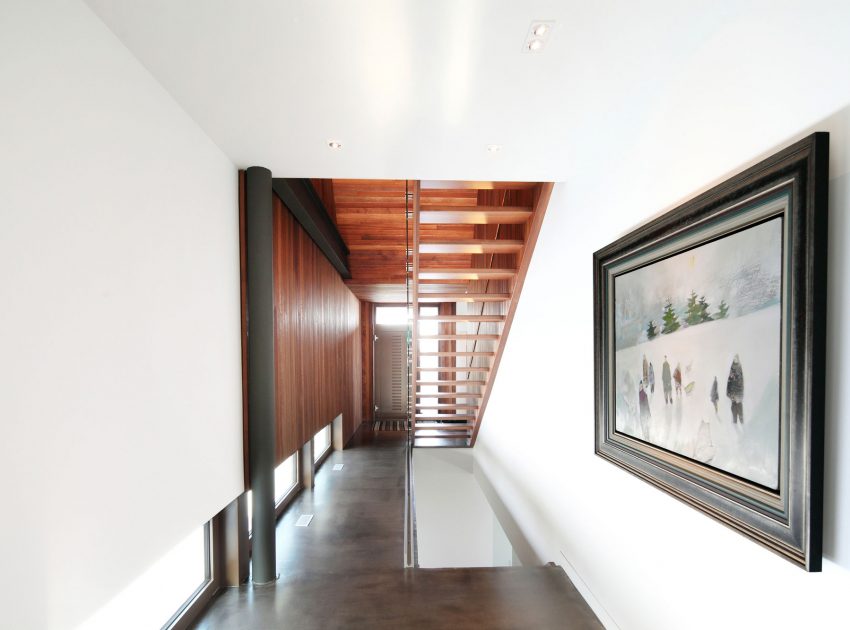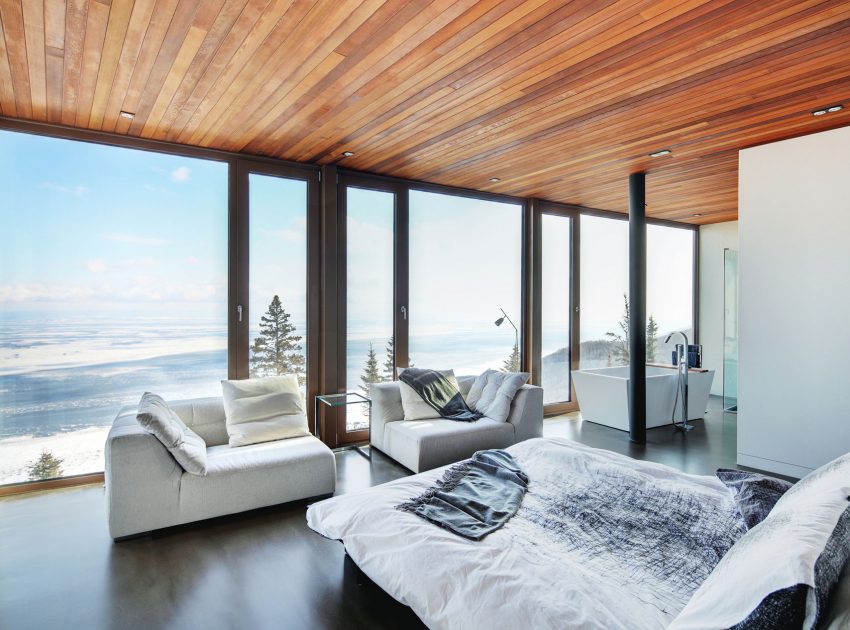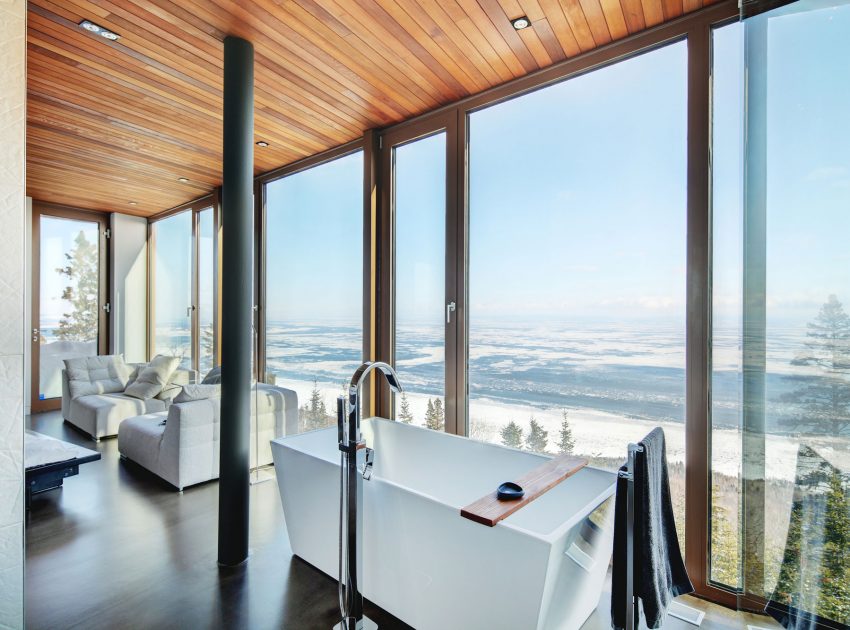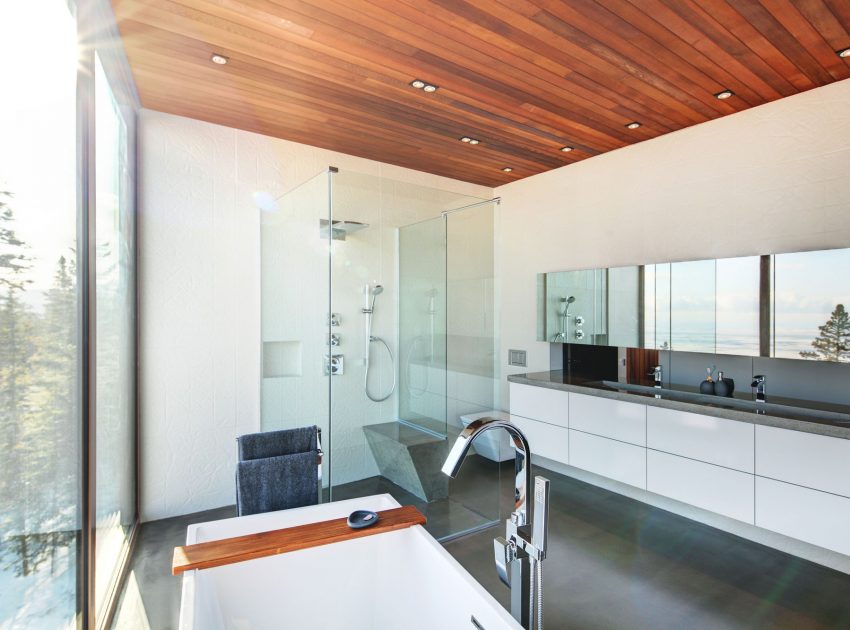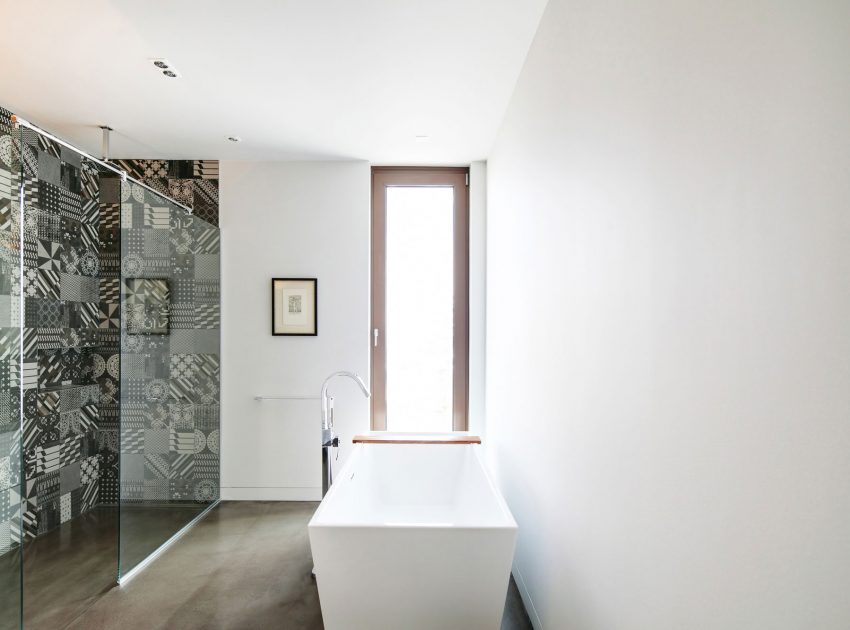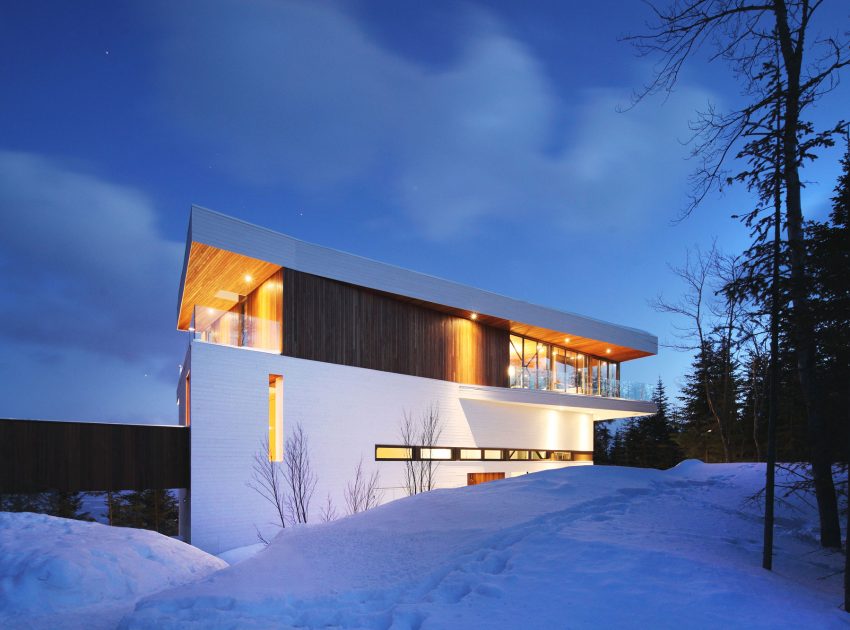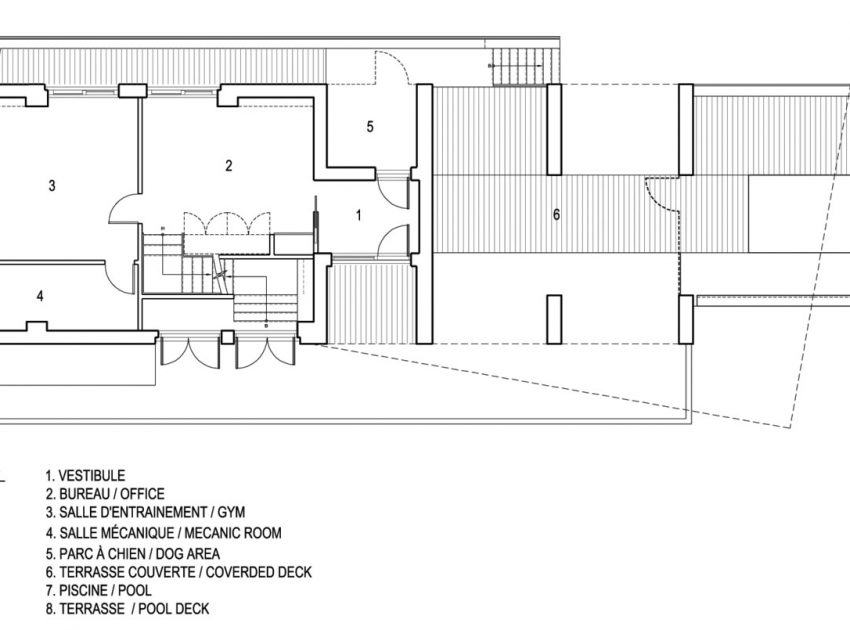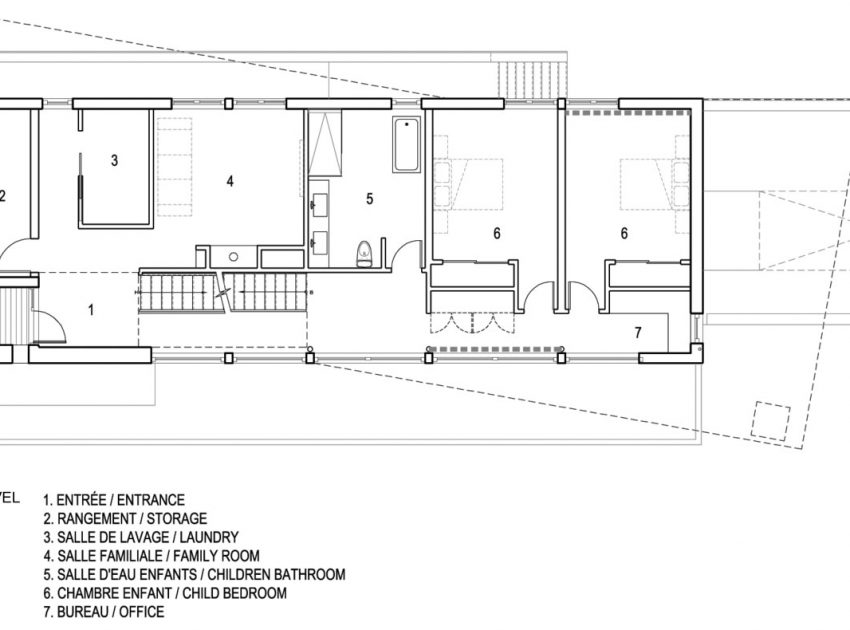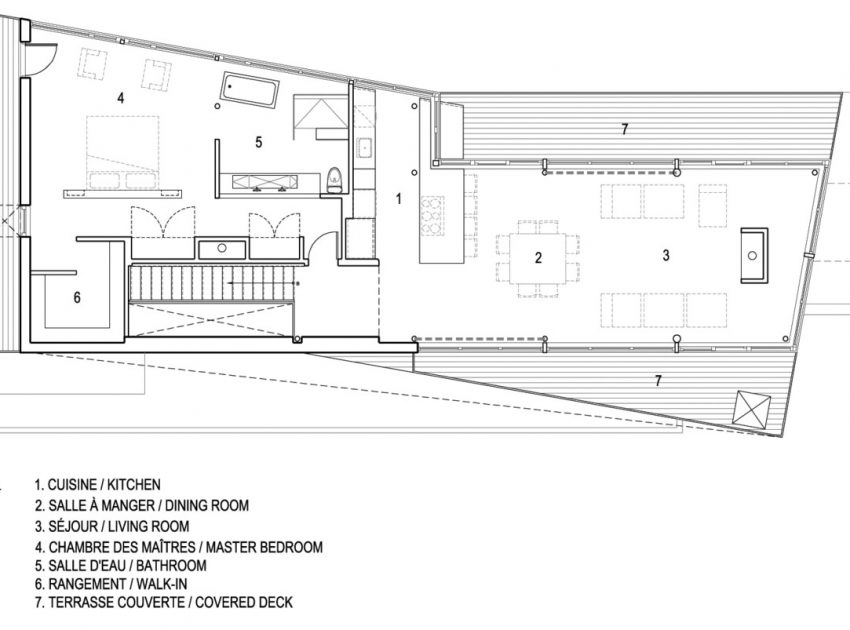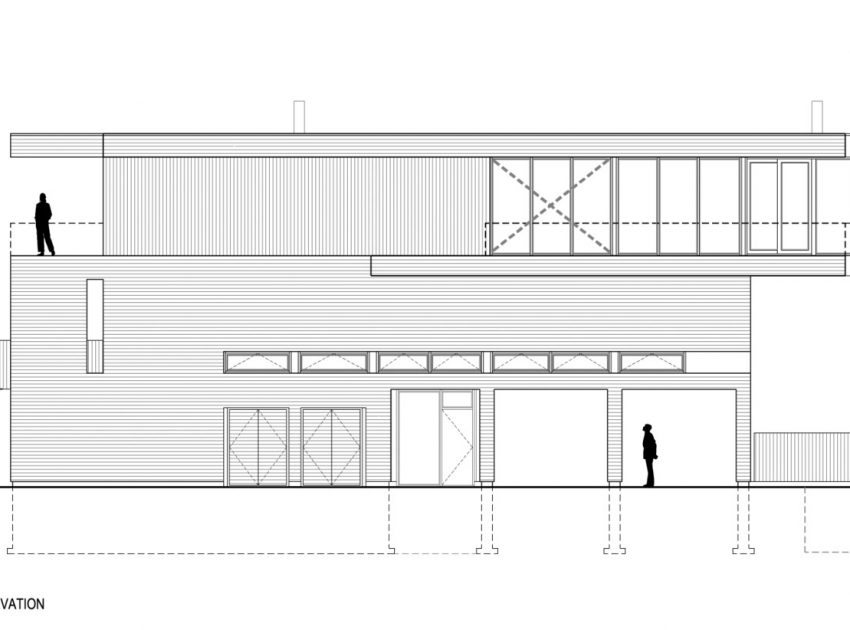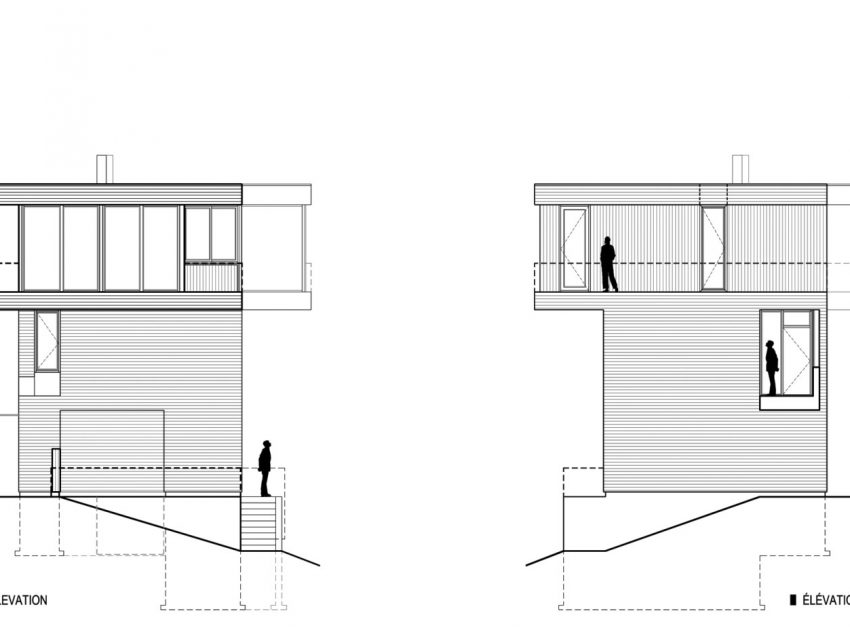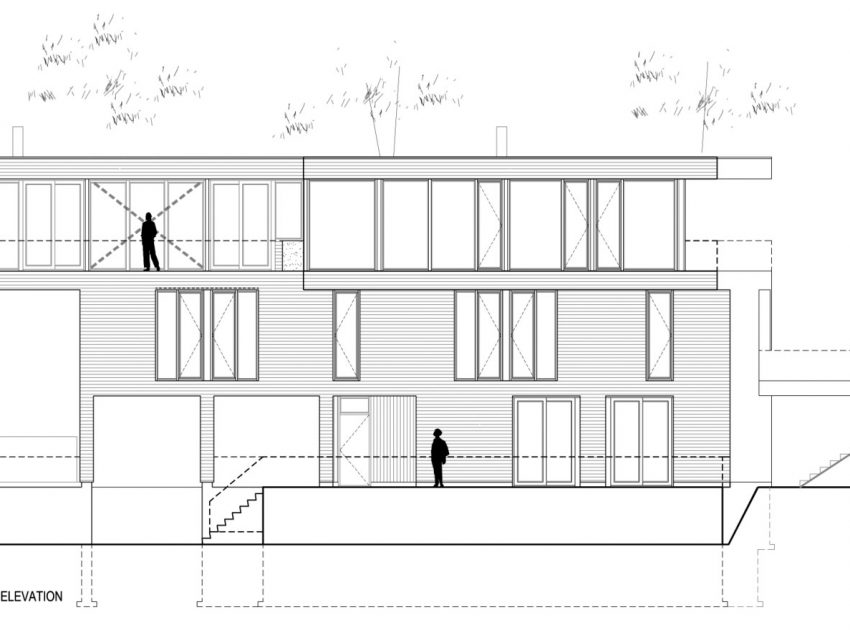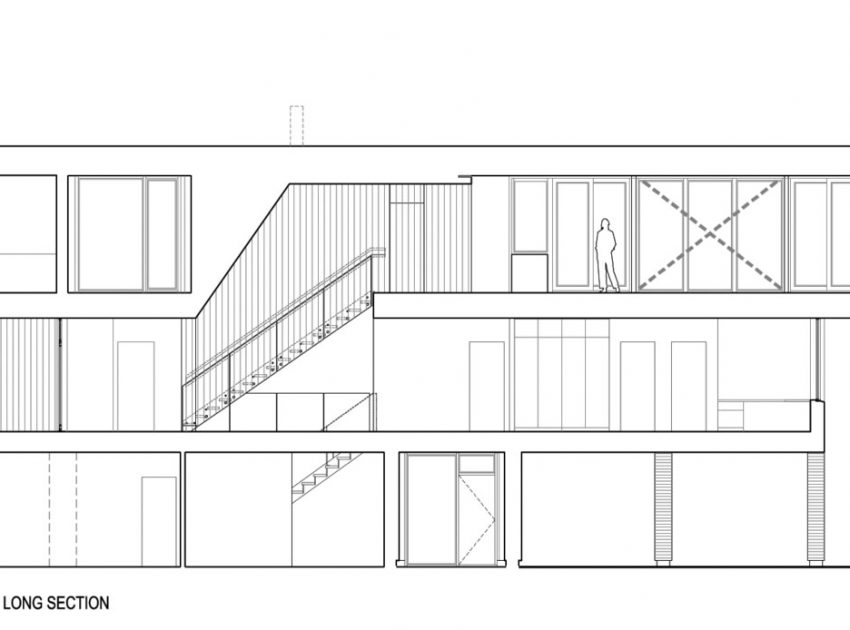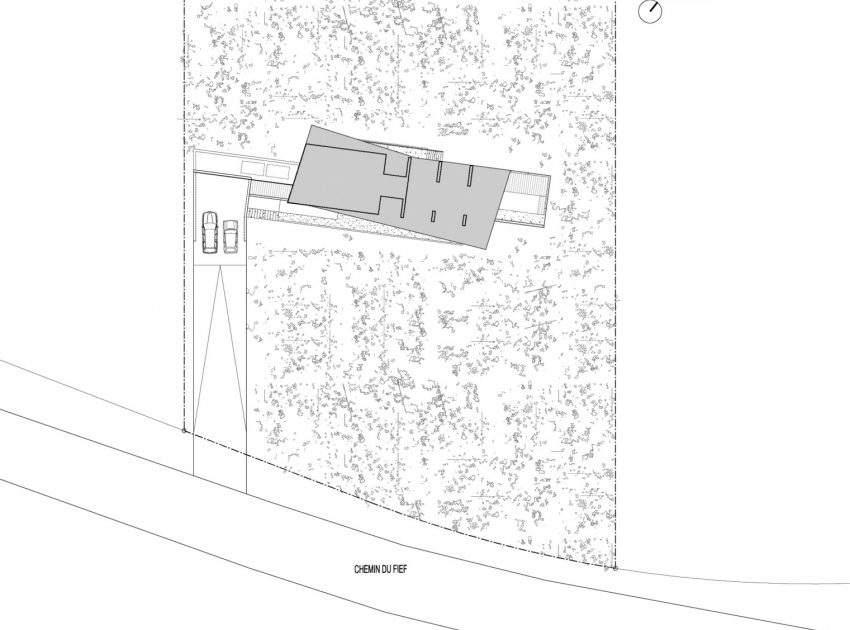 View the complete gallery