Oriol House by Rubén Muedra Estudio de Arquitectura
The house is located in a residential area in the interior of the province of Valencia, next to a high-quality natural environment, reinforced by the presence of the Golf Course that borders the plot.
The entire programme of uses is developed on the ground floor, organised into three independent volumes, clearly visible from the outside. The Studio, with excellent views of the Golf Course, is the only room that rises to the first floor.
The three main volumes are subtly raised from the plane of the landscaped ground, improving the long views, giving greater privacy and increasing the possibilities of ventilation. The three pieces have different heights, responding to the needs of the interior programme, and are joined together by two lower, horizontally communicating nexus pieces.
The treatment of the envelope is coherent in the three volumes, being very closed in the longitudinal sense, generating the greatest possible privacy with the two adjoining plots. In the transversal sense, in the elevation facing the access road, the high openings contrast with the power of the three closed blocks, while in the elevation facing the interior garden, swimming pool and golf course, the openness is total, with large glazing systems that complete the entire elevation. As an extension, there are three porch spaces covered by subtle concrete slats, which serve the three main areas of use: kitchen-dining room, living room and master bedroom.
Breaking the character of the pure longitudinal prism, the central block, which serves the living room, has a large central courtyard, coinciding with the entire width of the volume, which facilitates natural lighting and cross ventilation in the heart of the house, also becoming an extension of the living room.
The project, with great provocation and formal intentionality, is modelled by means of vertical and horizontal planes built from textured white reinforced concrete, with wooden formwork. It becomes a highly handcrafted moulding work. Dark aluminium and glass are the only materials that accompany the white concrete. Natural light does the rest.
The horizontal plane is resolved by means of large-format stone paving, with interior and exterior continuity, saving the large windows that are integrated below the level of the paving. In the interior, all the vertical walls are white, in contrast with the green background created by the central courtyard, the outdoor garden and the golf course.
The interior lighting is designed with indirect linear lighting, supported by integrated point luminaires with invisible beams. The house has a domotic installation with control of all the electrical and audiovisual elements.
On the outside, the natural landscaped surface dominates, generating the exterior circulations on large concrete slabs. A fence is planned for the street, in coherence with the rest of the project, resolved by means of vertical slats of white concrete, which allow the house and its garden to be insinuated from the exterior public space.
The House Design Project Information:
Project Name: Oriol House
Type: Contemporary House
Designed by: Rubén Muedra Estudio de Arquitectura
Project Year: 2020
Photos by Rubén Muedra Estudio de Arquitectura & Adrián Mora Maroto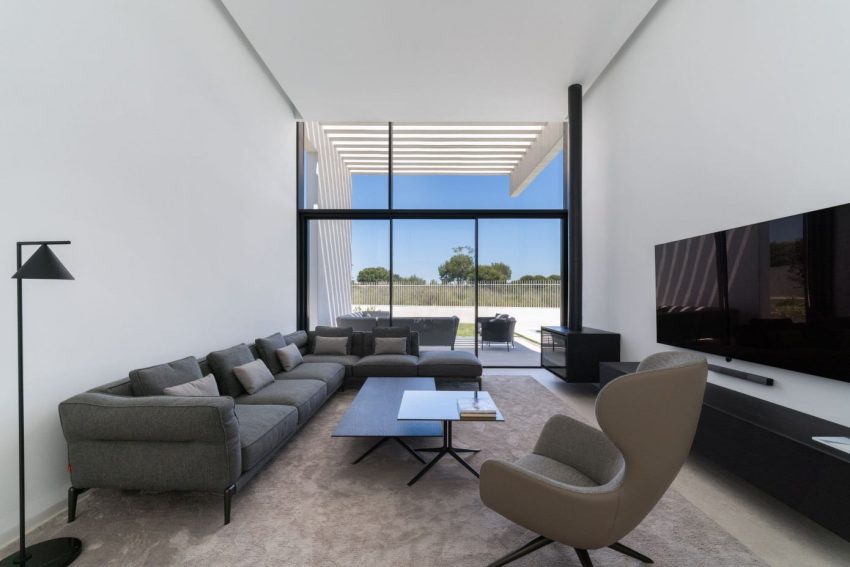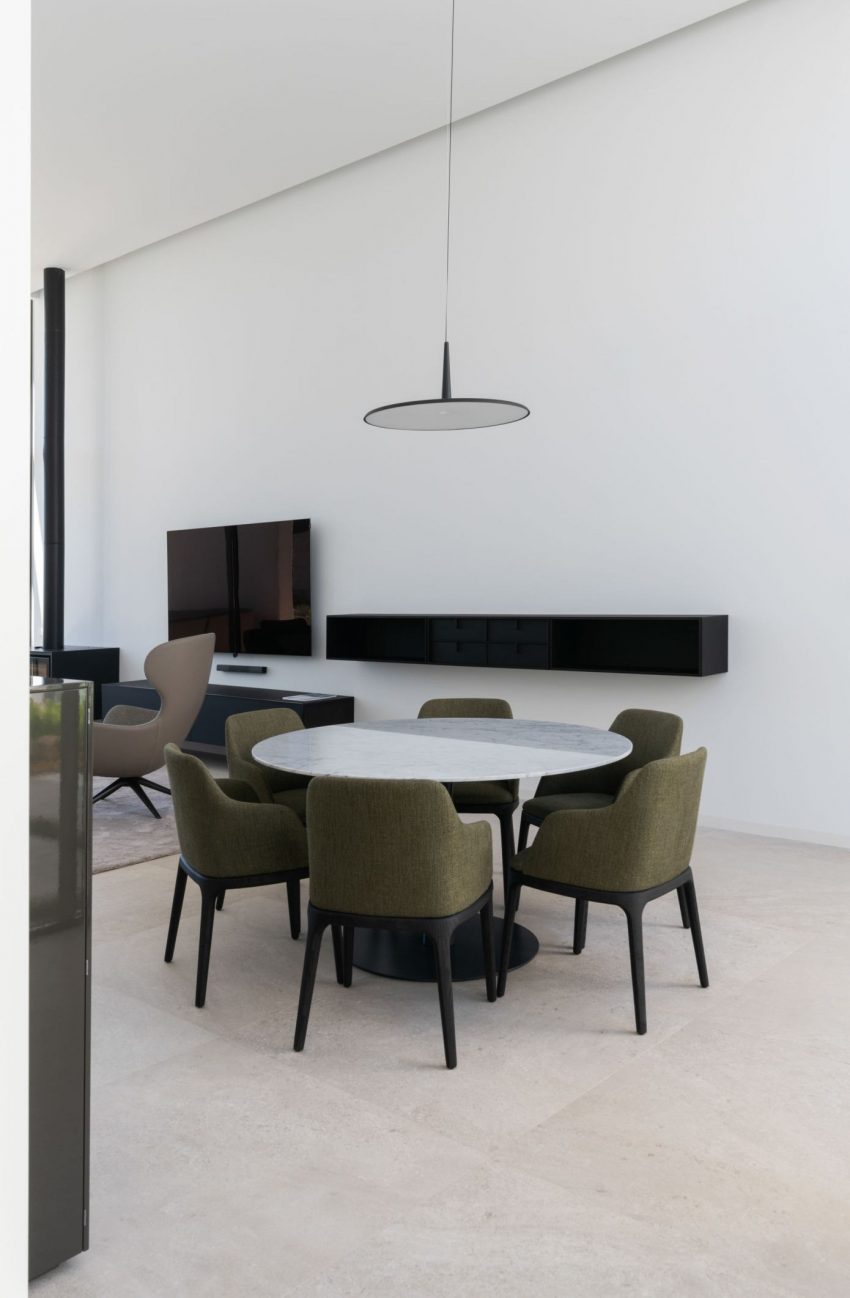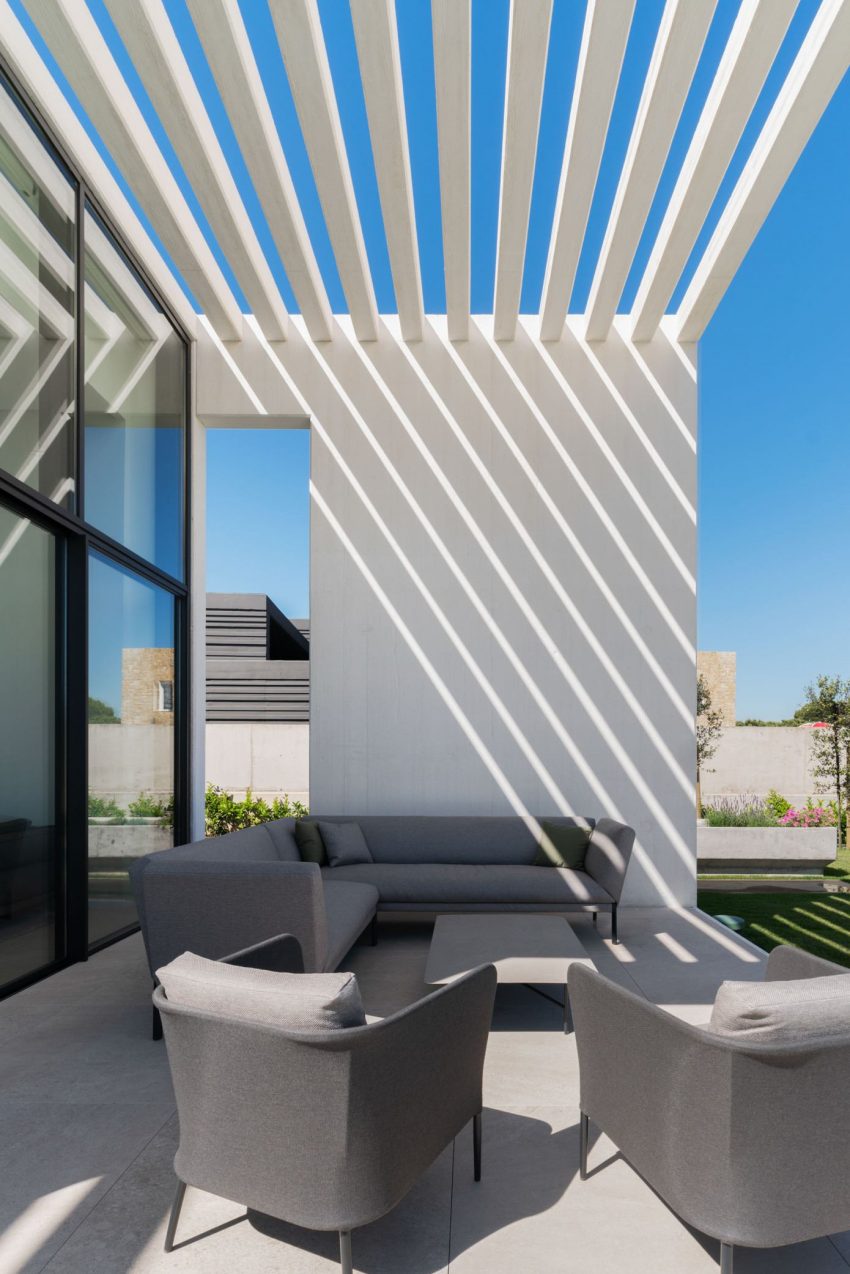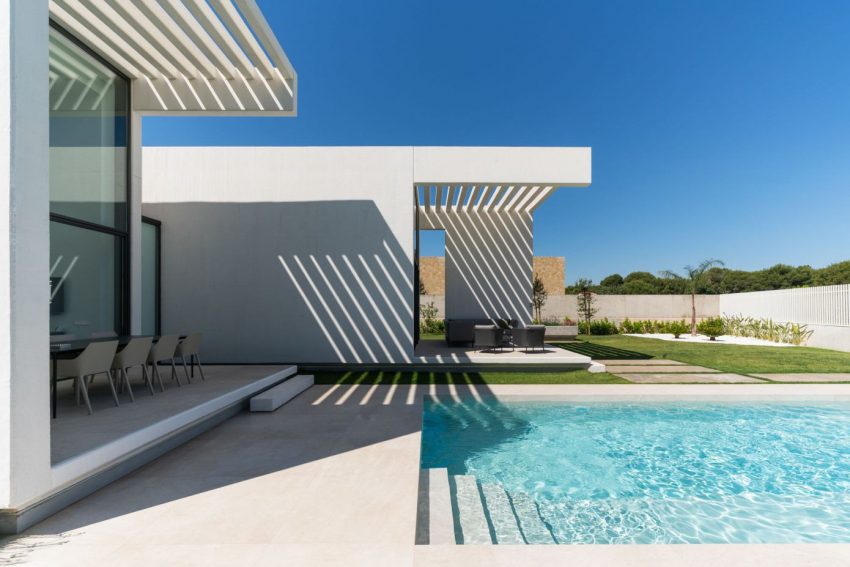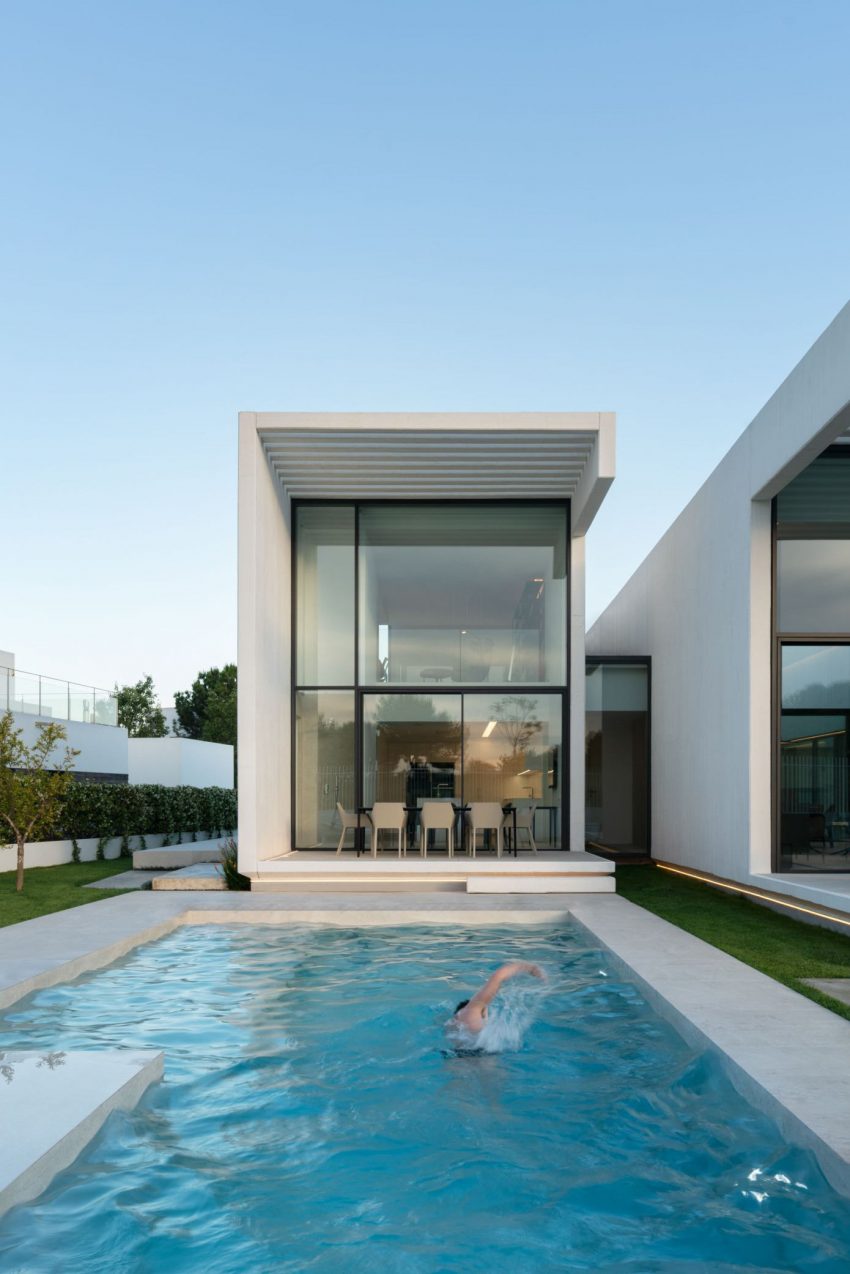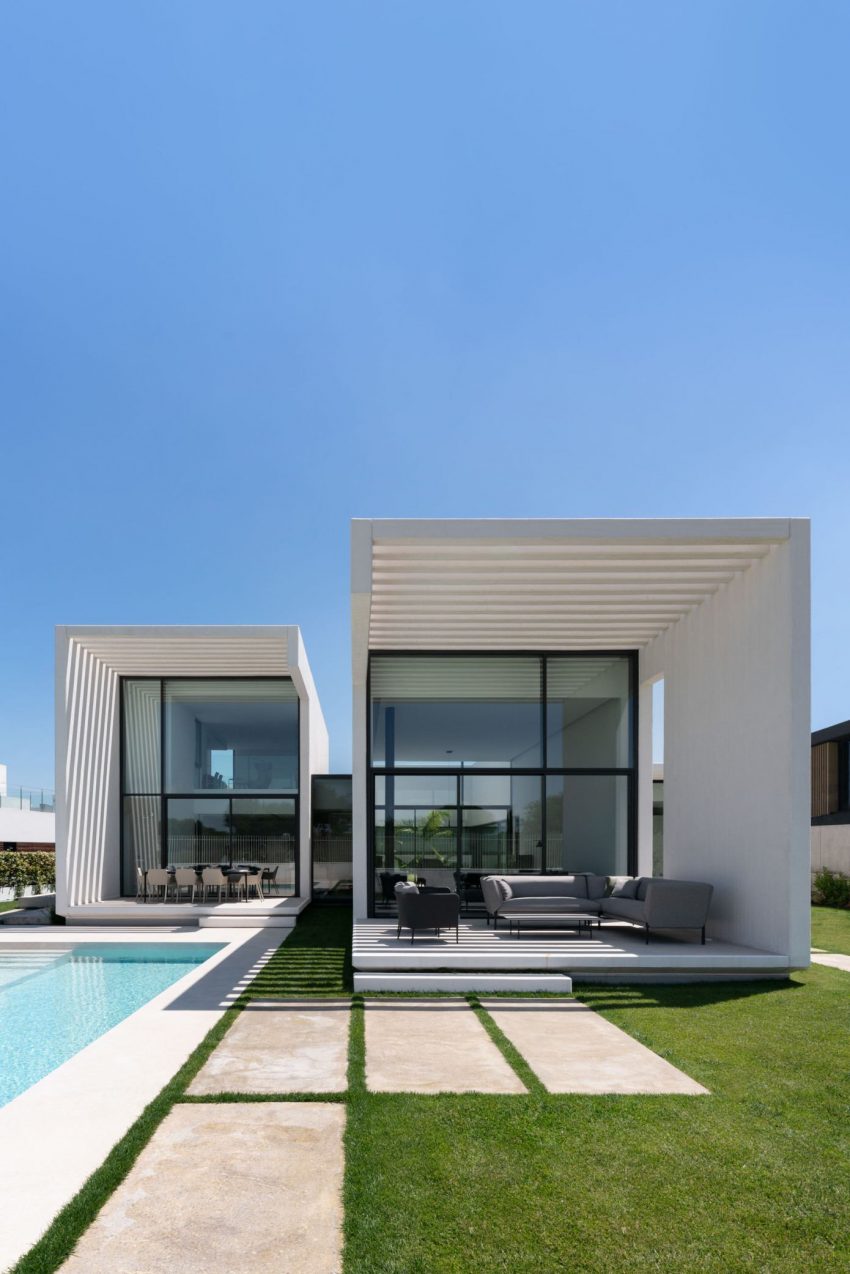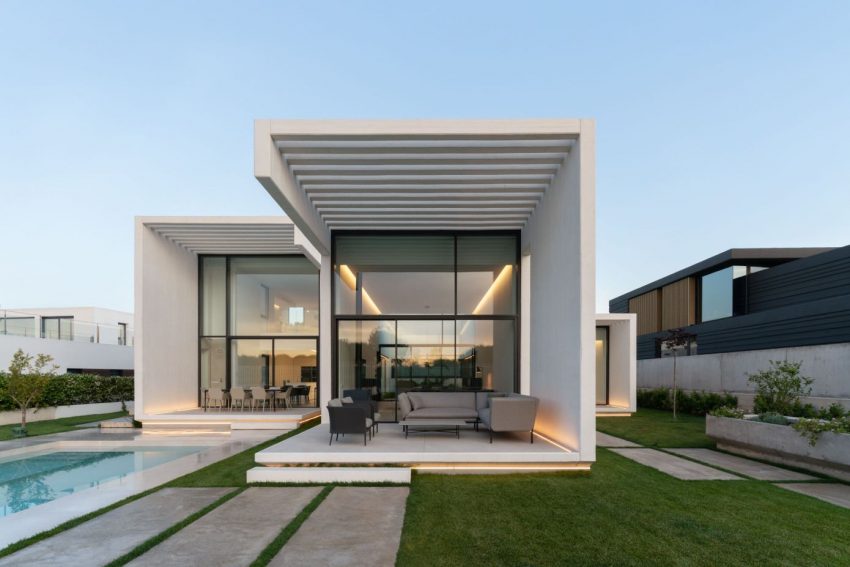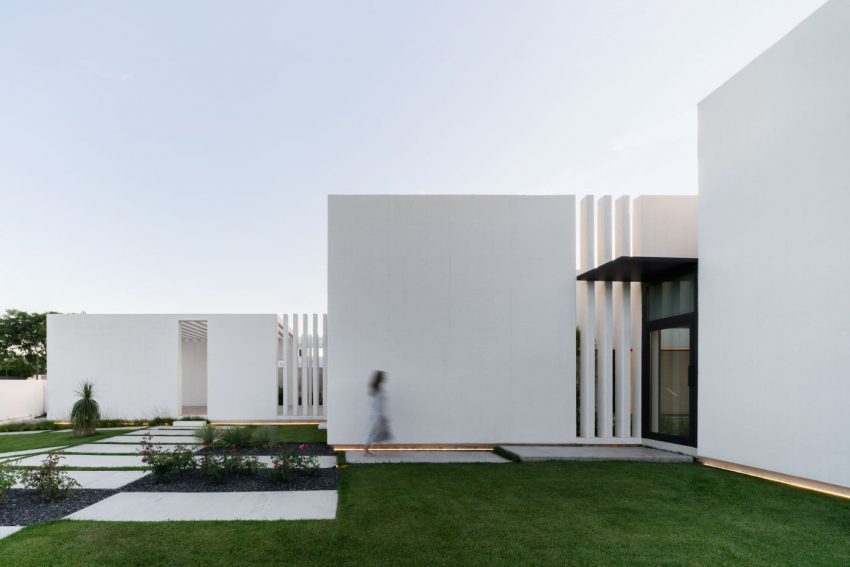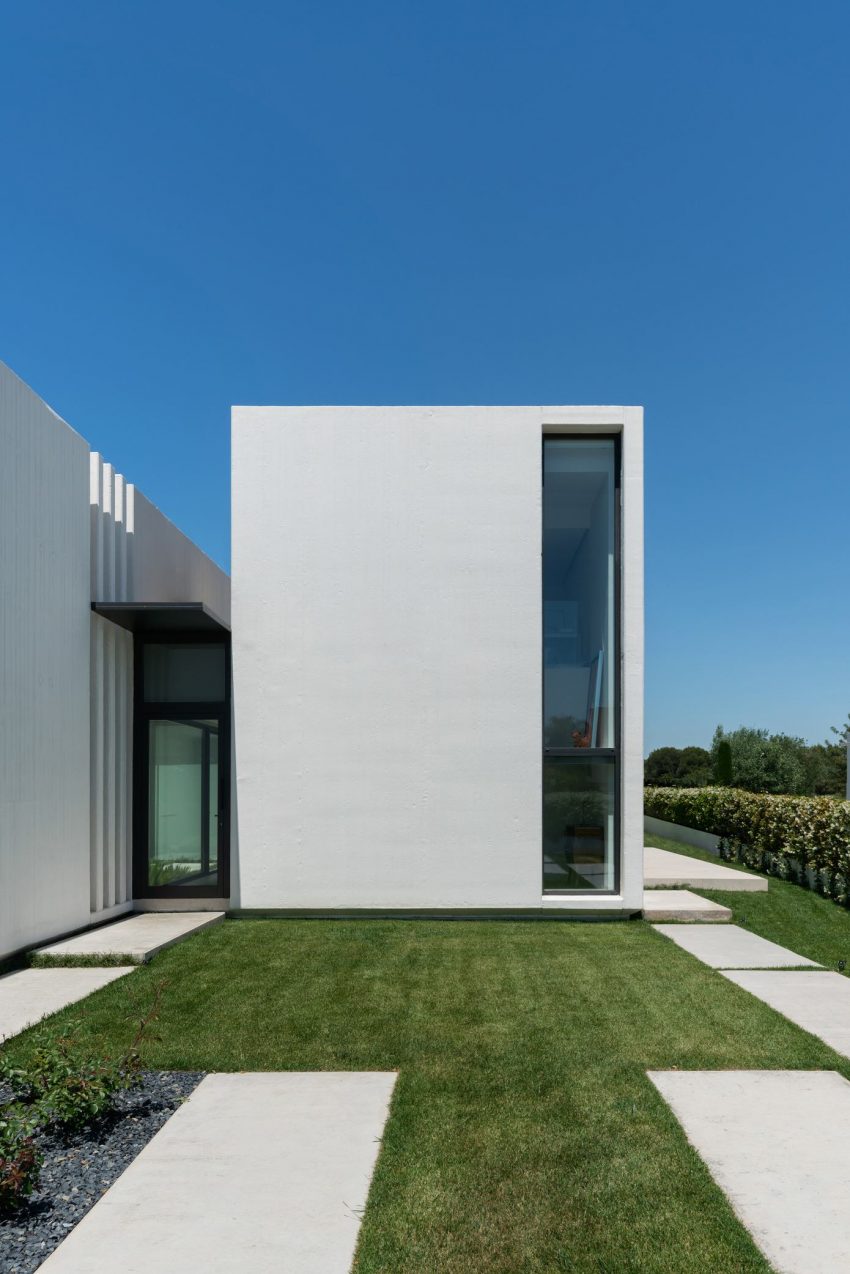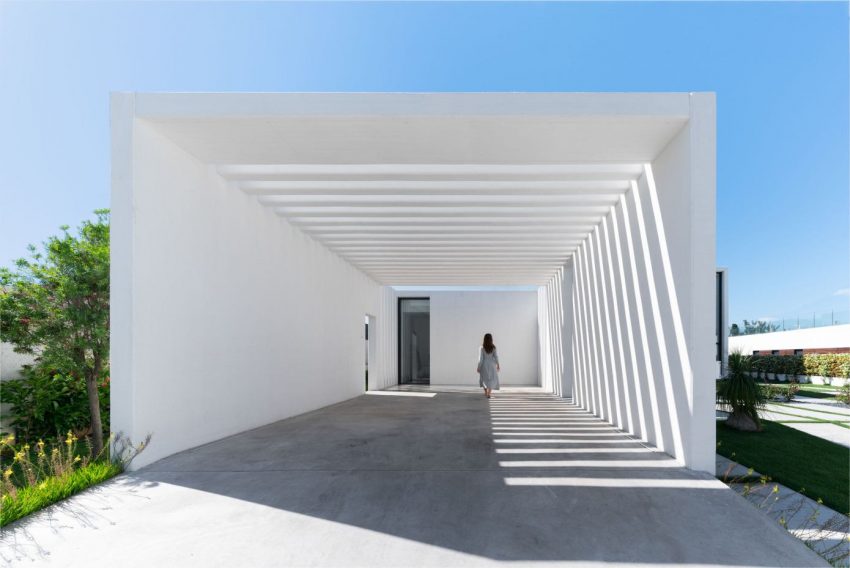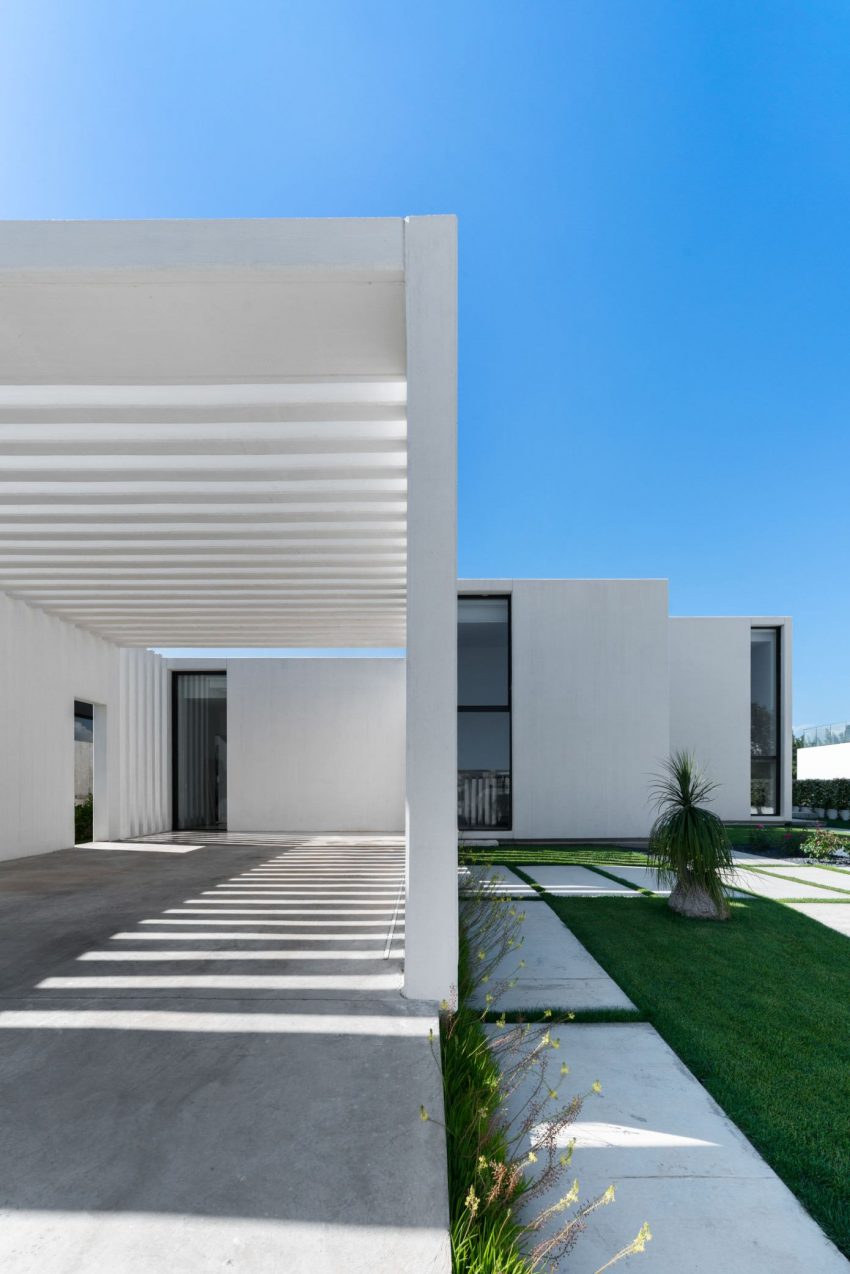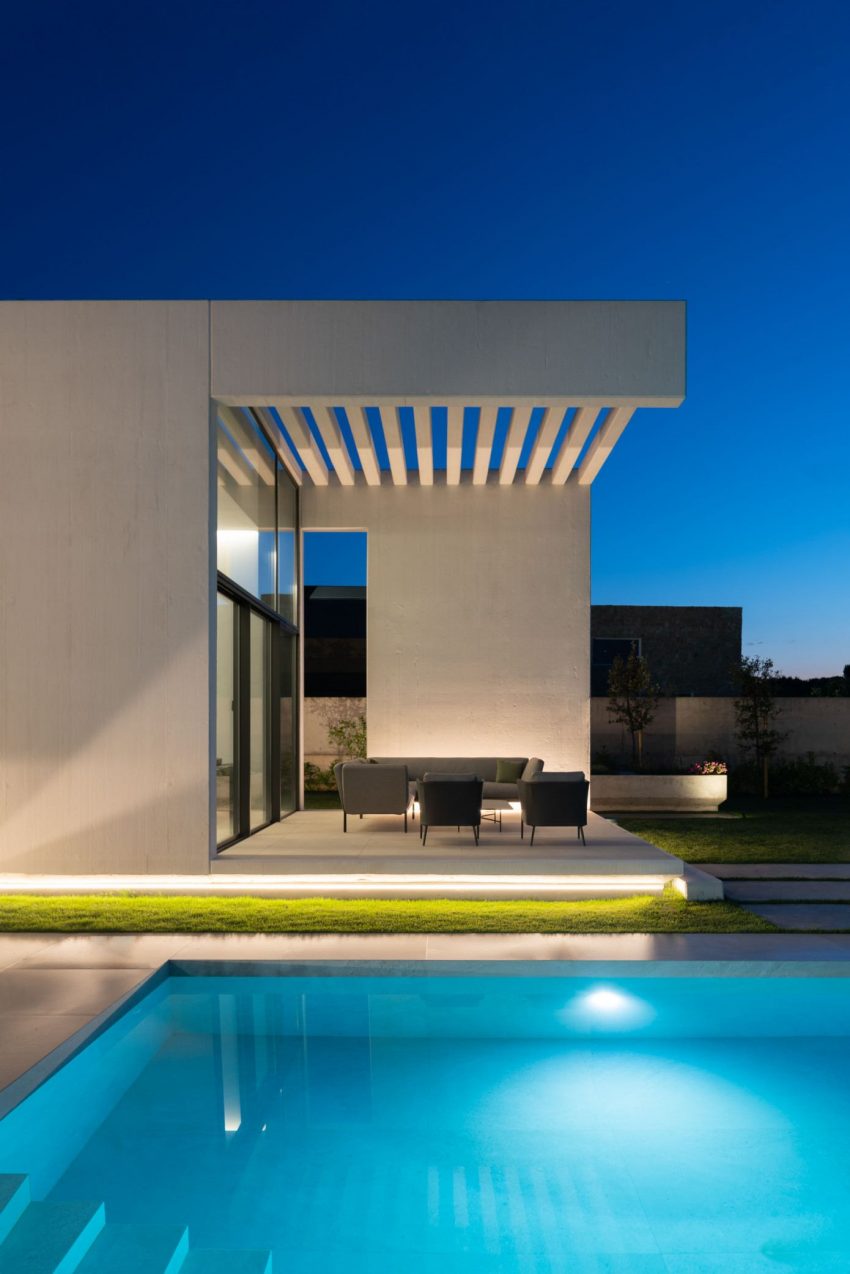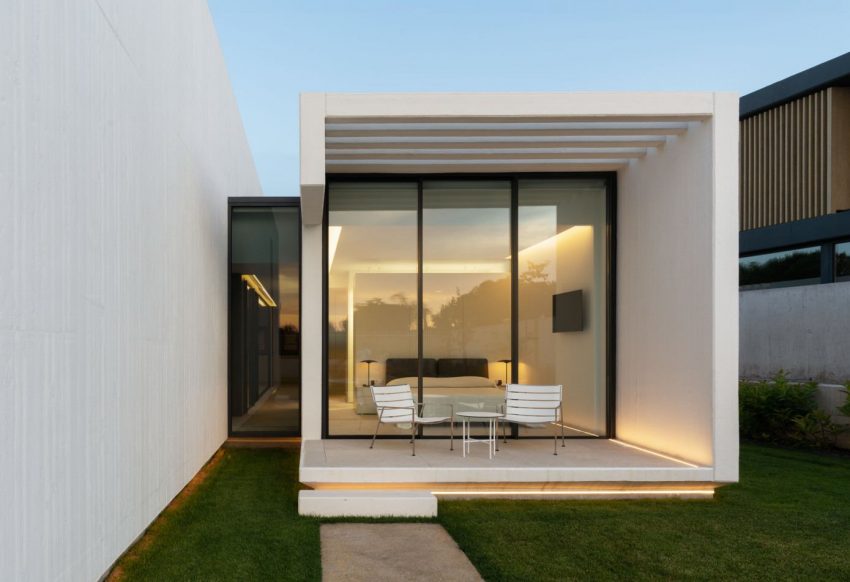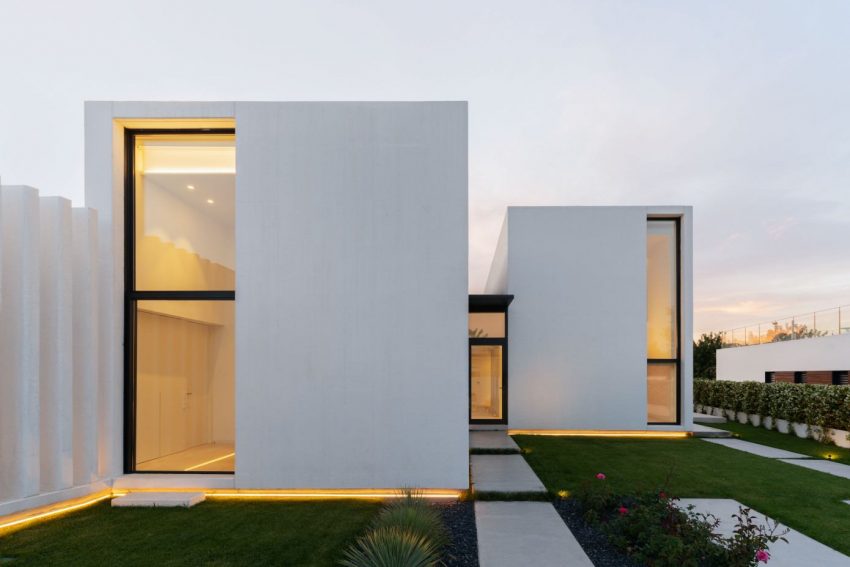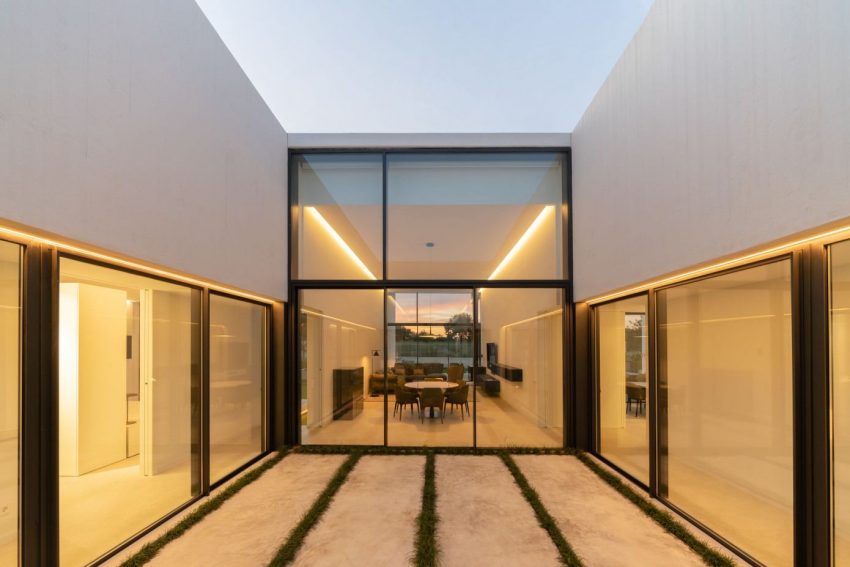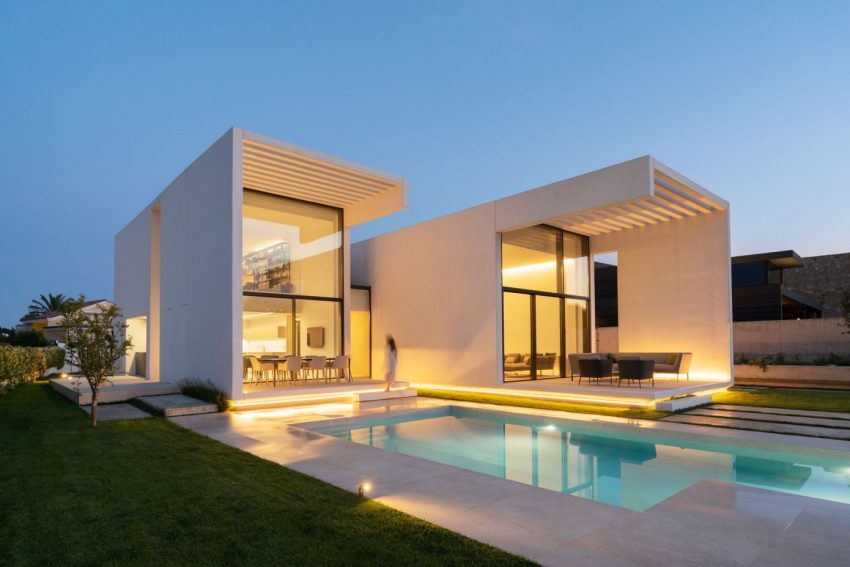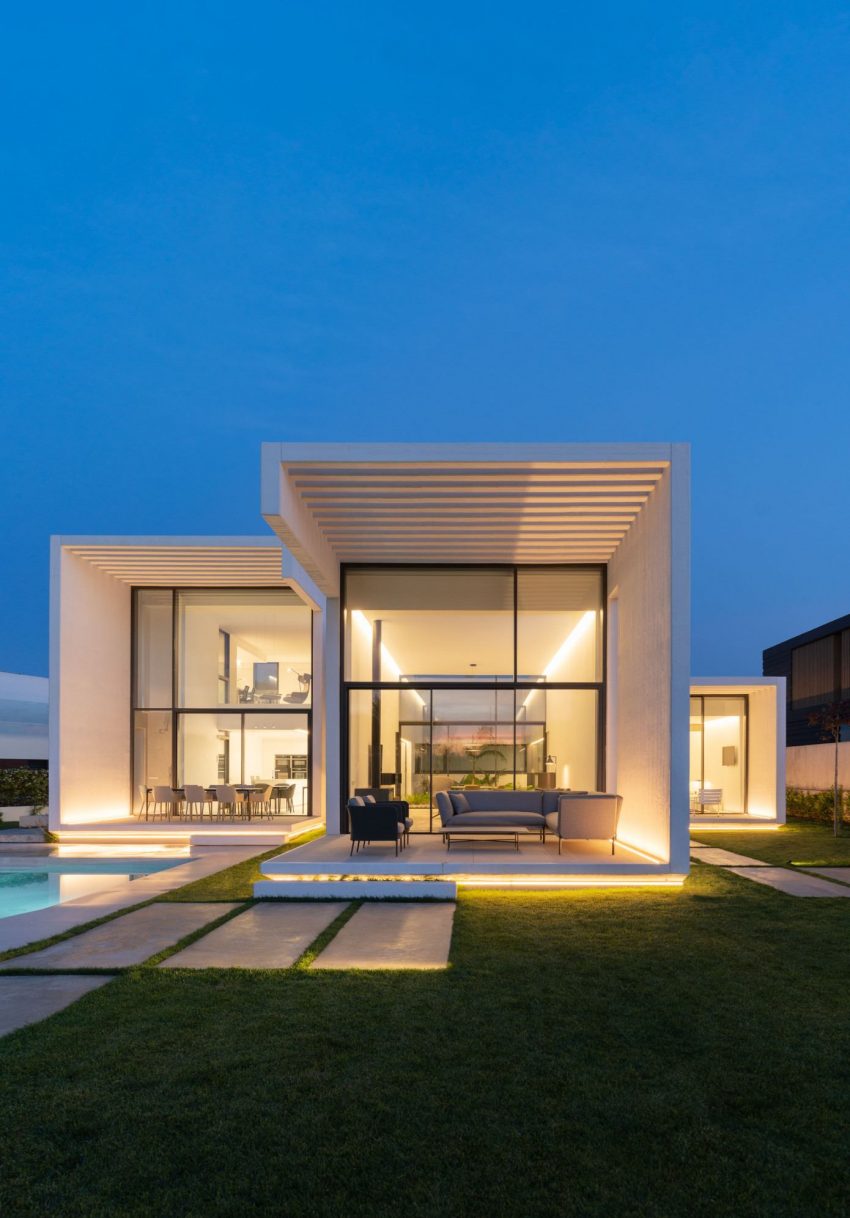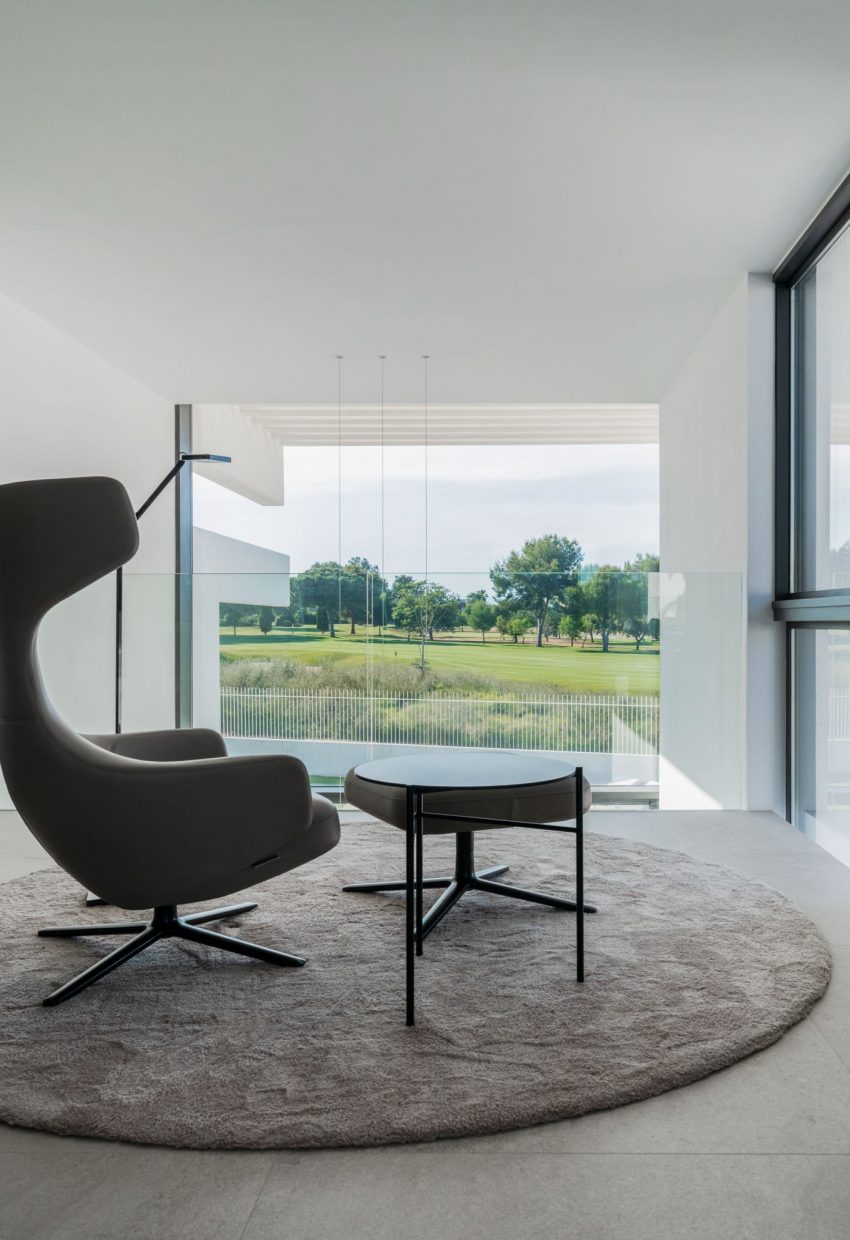 View the complete gallery