Apartment for Four by Rina Lovko
"This project we started in 2012. At the time, I just graduated from the university and I really wanted that everything to be, as it was intended.
The project was diverged only in some minor details. Singularity of the interior, for example, is that we had been able implement a cabinet-wall-door along the corridor that helped us to save a lot of useful space throughout the apartment.
It is also interesting that the owner of this apartment is for a long time and professionally engaged in the door manufacturing. When he asked himself how to arrange his own apartment, he decided that it should not have doors, those he has a lot at the work. But anyway, doors are still there in the apartment, but for painting and with concealed duct.
About understanding says the visualization of the interior. Author of the project offered a pretty compelling "mudboards" with a thorough selection of materials and sophisticated color palette. That was enough to start work and get a good result. Thanks to trust relations, the design took only one month, and the construction works – one year.
The main difficulty in the work on the interior was impossibility to dismantle or to remove any of the walls. Thus, the question of replanning has disappeared, and the architect had to adapt an existing volume to the usual scenario of life for family of four persons.
The solution of complex situation was substandard: significantly raised doorways, made exit from the kitchen into the living room and in the corridor deepened in wall integrated cabinet, fixed by channel bar.
This solution helped to separate the general area from the private, and a relatively small space (total area – 90 sq. meters) was turned into the most functional and, at the time, spacious area.
In result, the apartment contained: night nursery and master bedroom, master's and guest bathrooms, a living room with the kitchen and utility area.
Linearity, naturalness and a minimum of details – these are three main components, on such interior solution was based. According as the architect said, the most "elegant" room in apartment become the kitchen with expressive brass wall (instead of the usual ceramic apron or tempered glass) and with no less memorable walls of concrete slabs, each of which is molded by hand.
But in fairness it should be noted that in all areas there is a bright accent. In living room – there is mustard pouffe and paintings, in bedroom – there are open blue walls, in bathrooms – there are wooden surfaces with rough edges and in the nursery – there are coloured wallpapers and textile.
From the very outset, the owner of this apartment had dreamed about Scandinavian style, but in course of time, the style of the interior has changed, one of the reasons was the home appliances from Ora Ito for Gorenje, which were liked by customer, but did not accord to his primary image and wishes.
Thus, in Kiev one more modern laconic interior appeared, but with echoes of Scandinavian solutions and own character."
Photos courtesy of Rina Lovko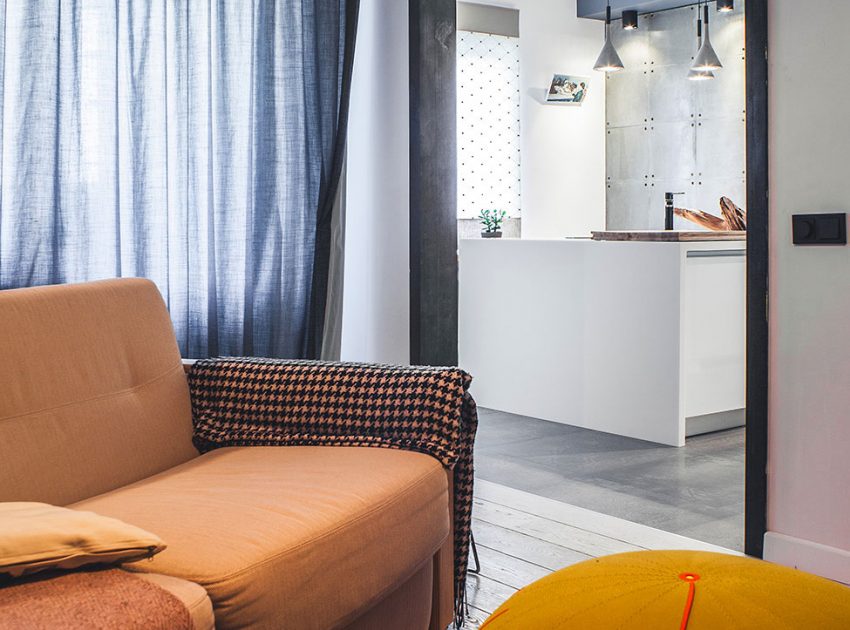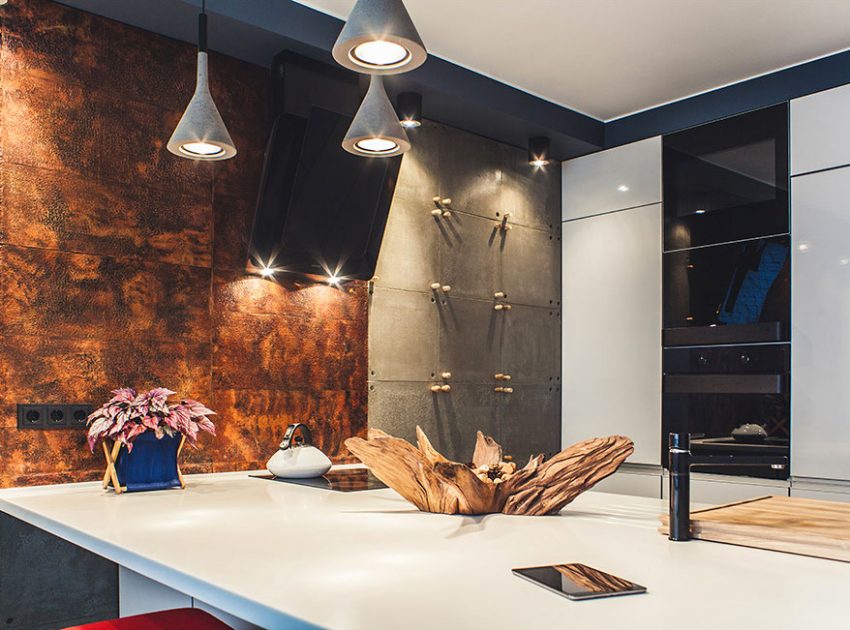 View more: A Sophisticated Modern Apartment with Spacious and Warm Interior in Sin El Fil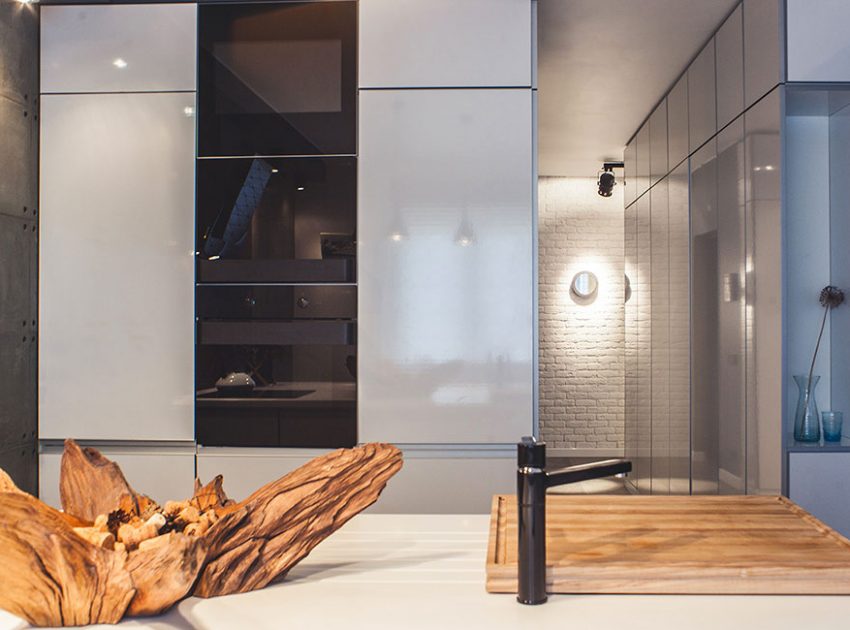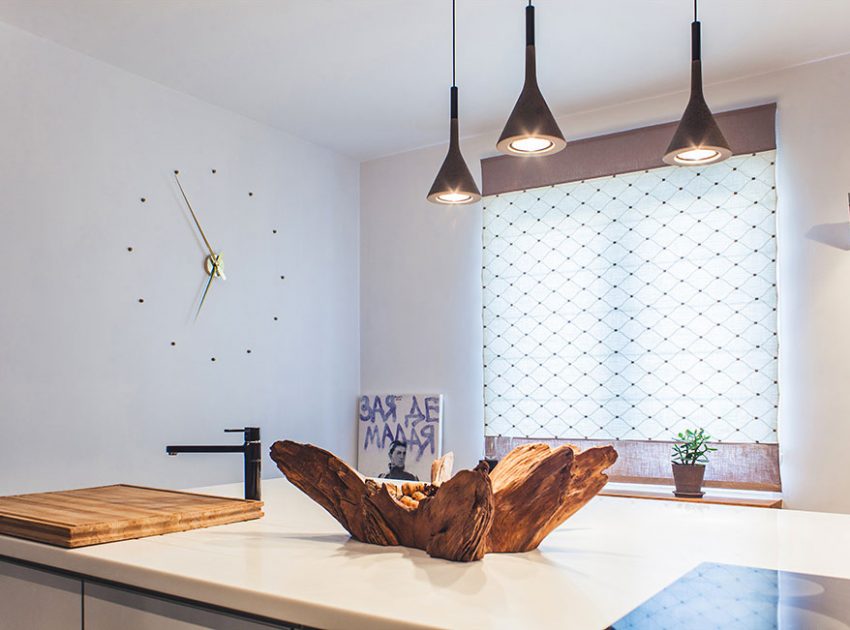 Related: A Stylish and Playful Duplex Penthouse with Suspended Steel Staircase in Tel Aviv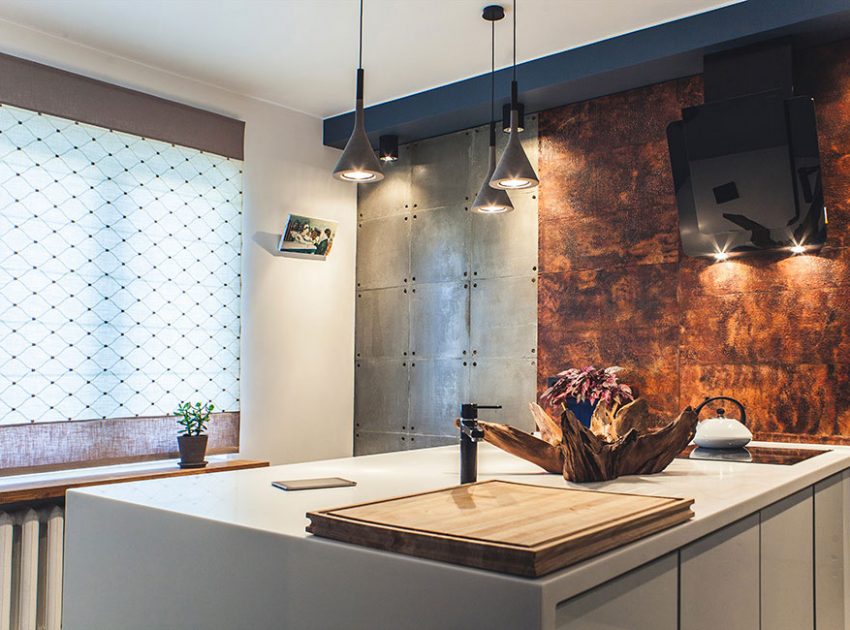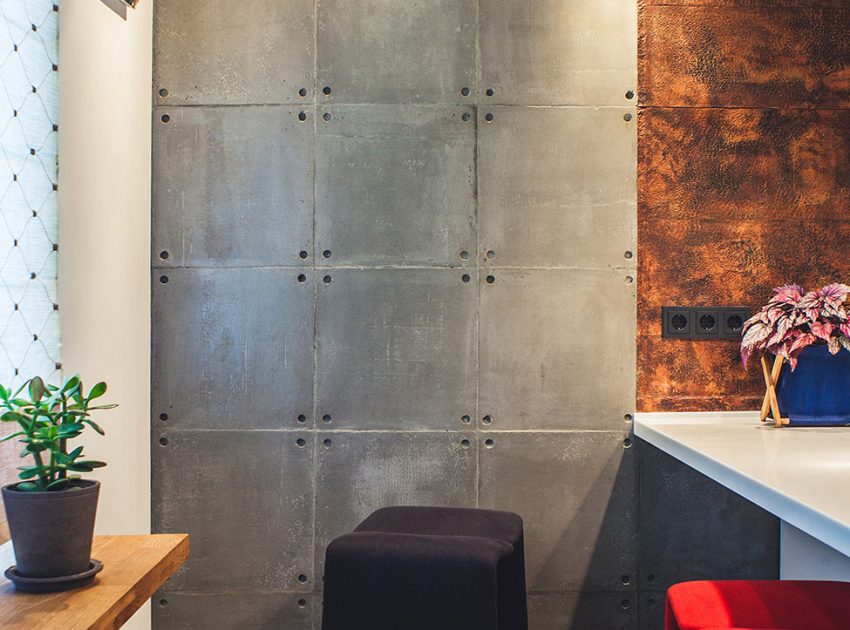 Here: An Elegant and Whimsical Family Loft with Concrete Walls in Los Angeles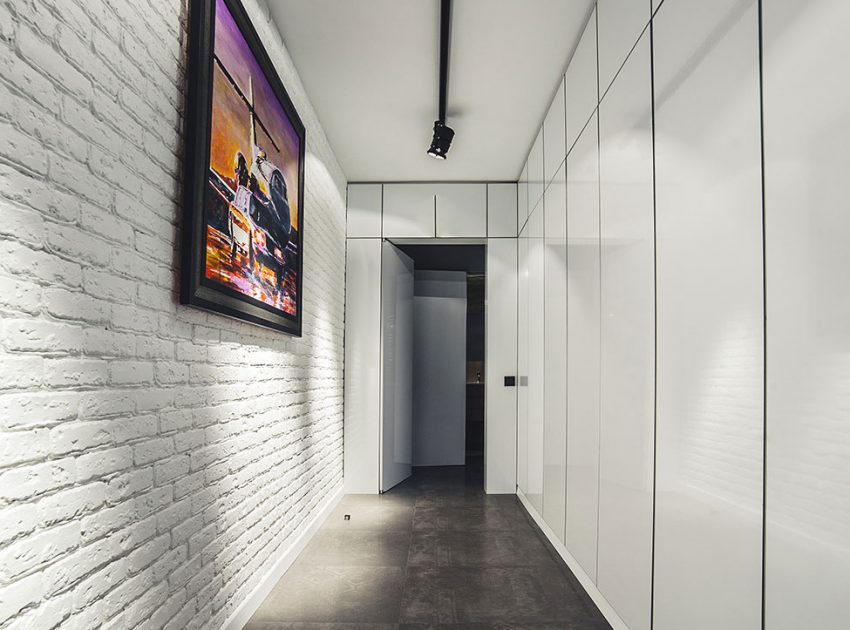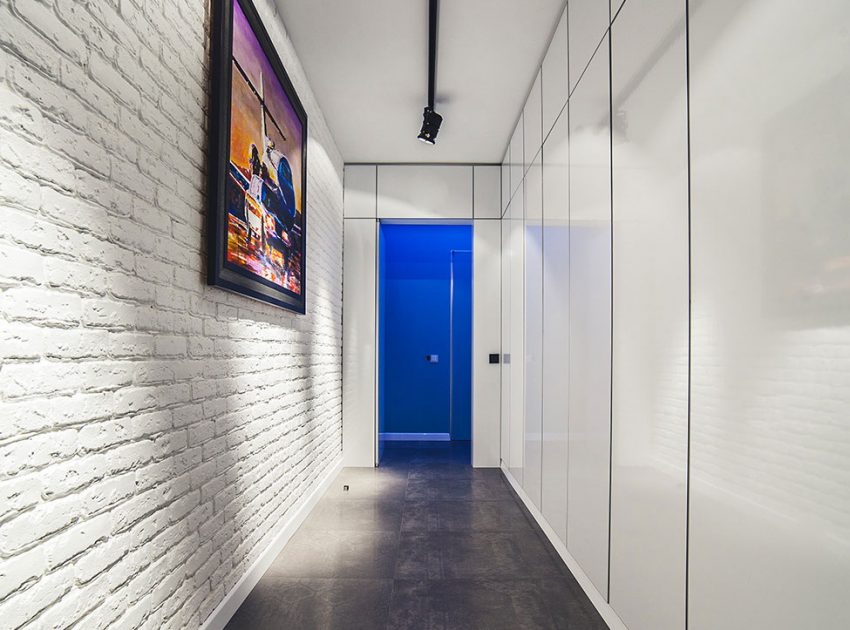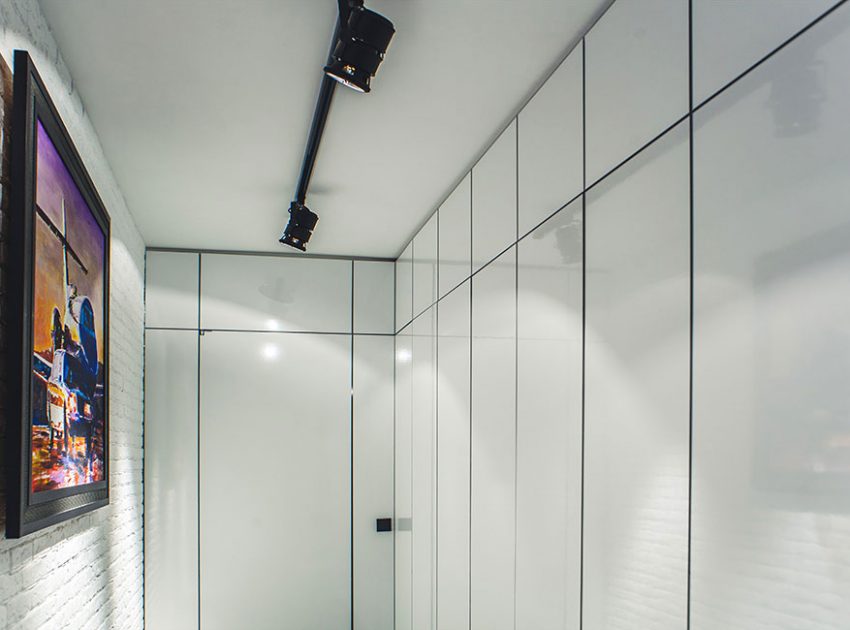 Read also: A Small Industrial Apartment with Vibrant and Cozy Interiors in Kiev, Ukraine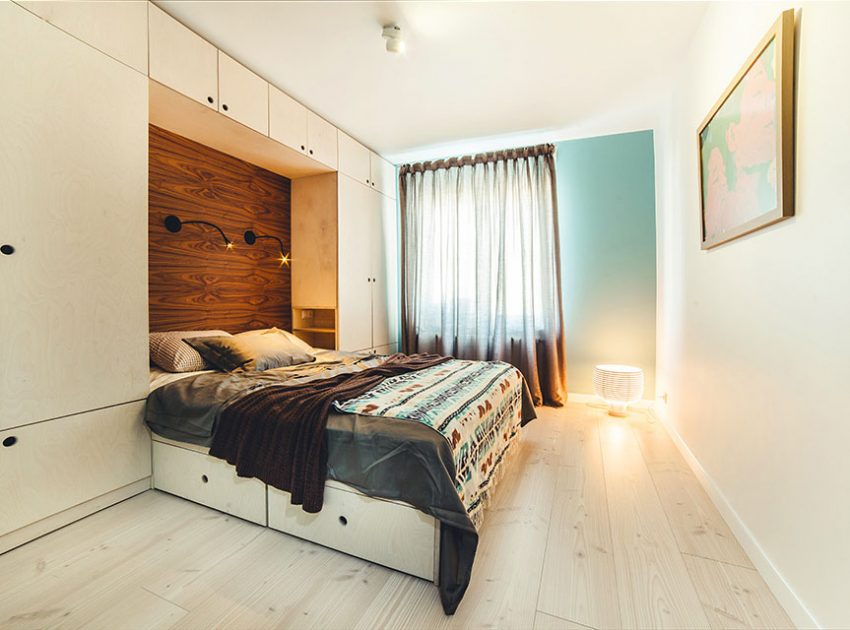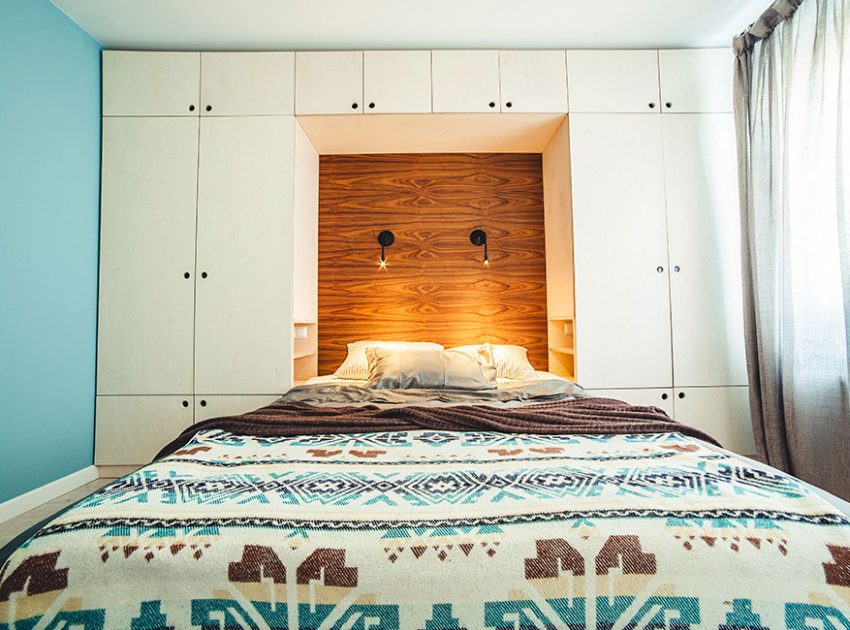 Next: A Stylish and Spacious Contemporary Loft in Paris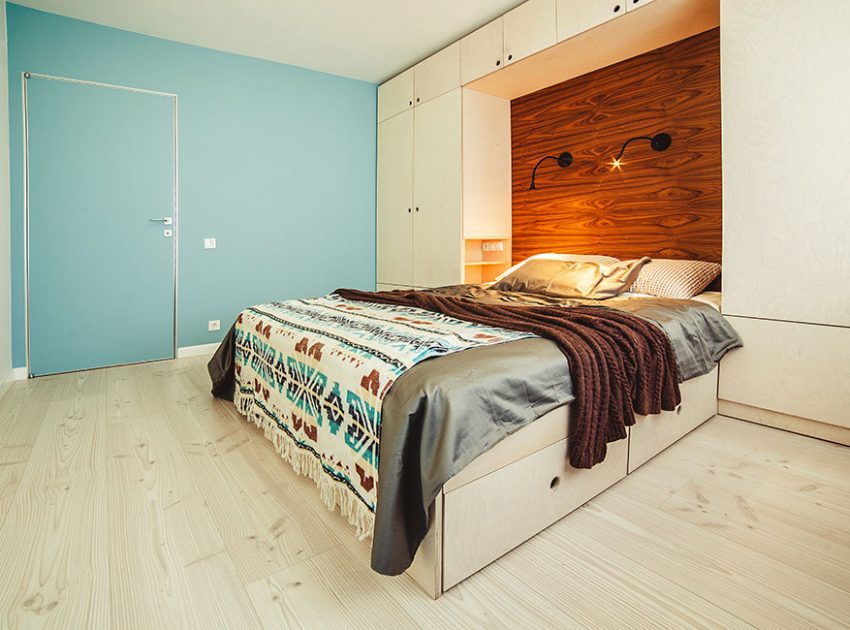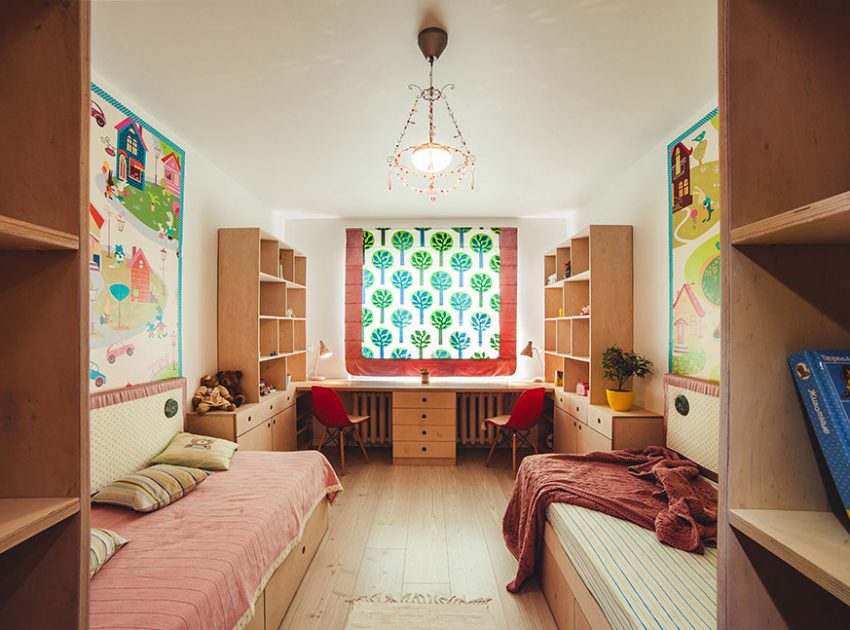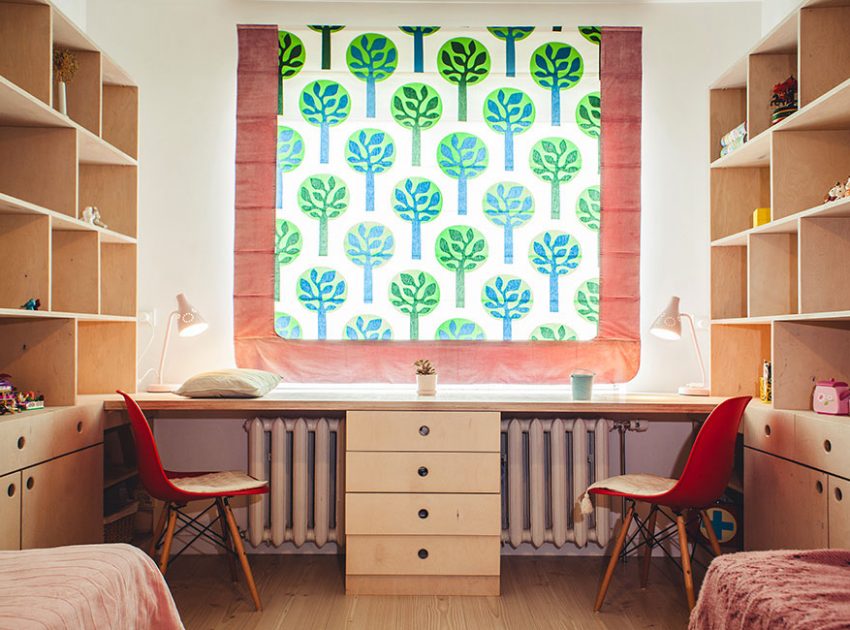 Check out: A Sophisticated Modern Apartment for Young Men in Kiev, Ukraine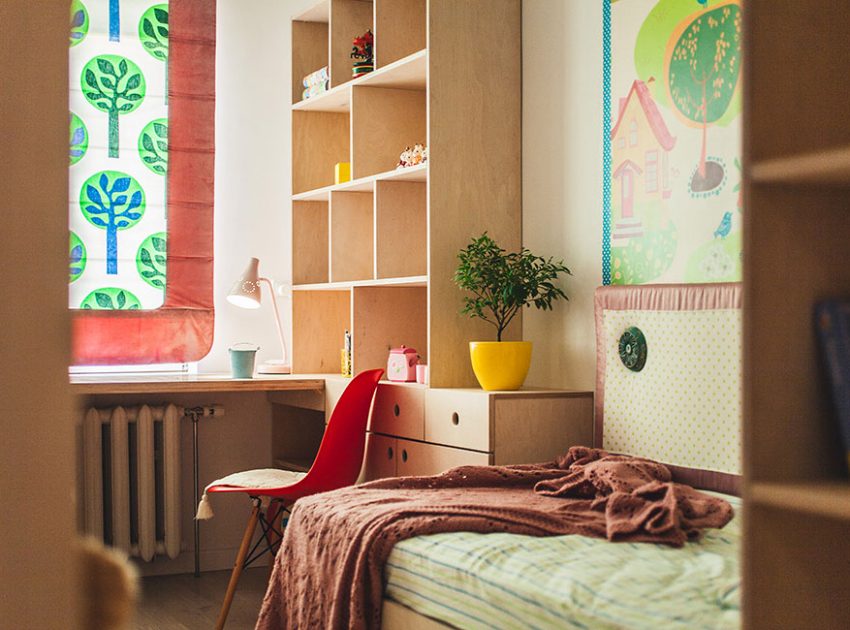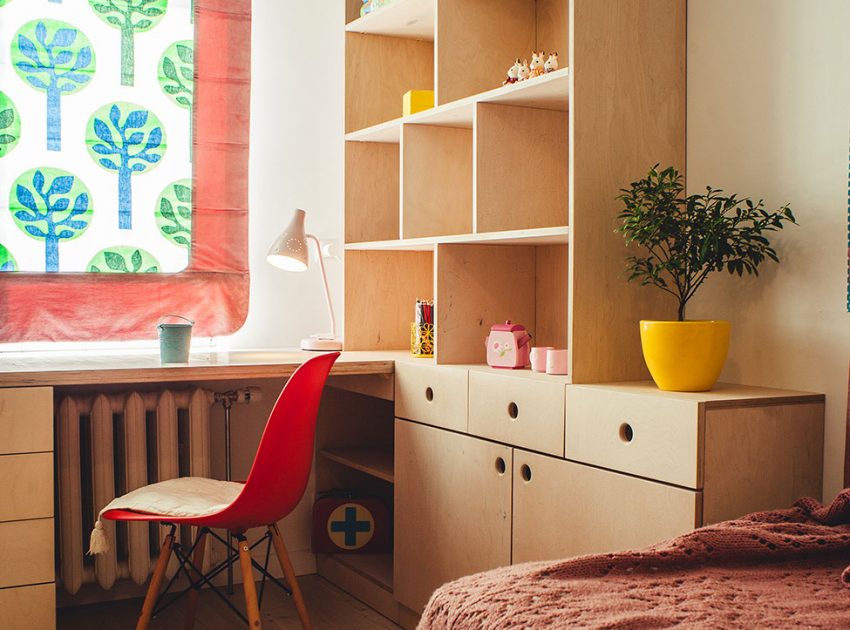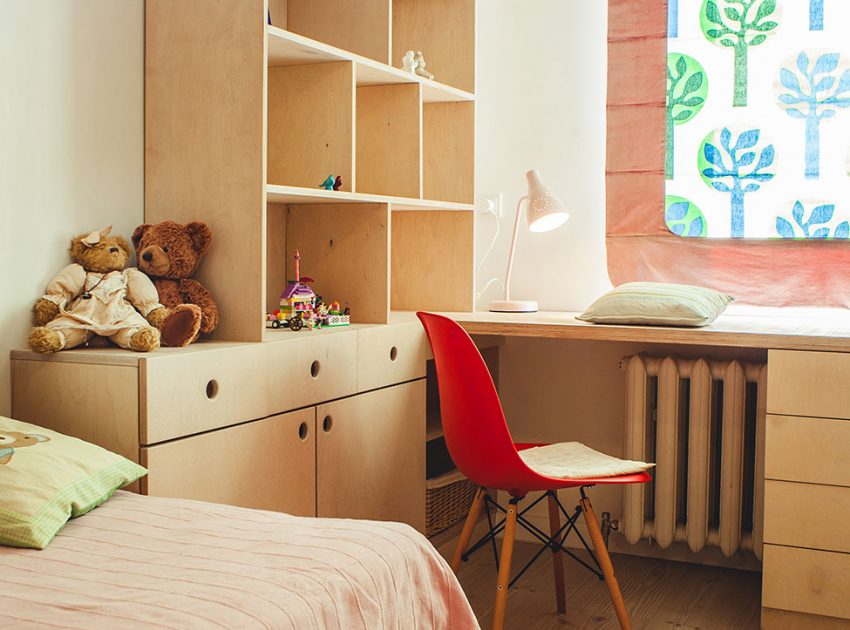 Read more: A Bright and Cheerful Scandinavian Apartment in Dazhou, China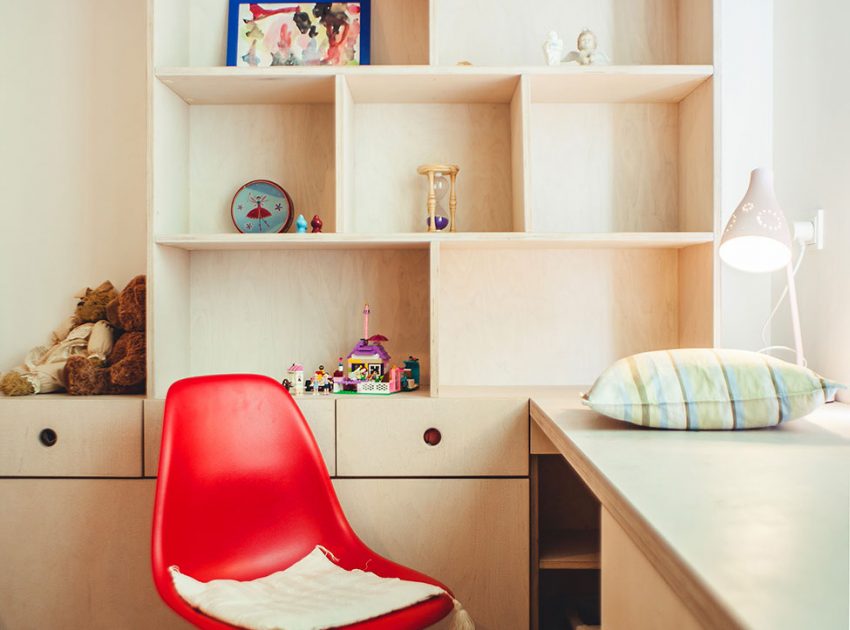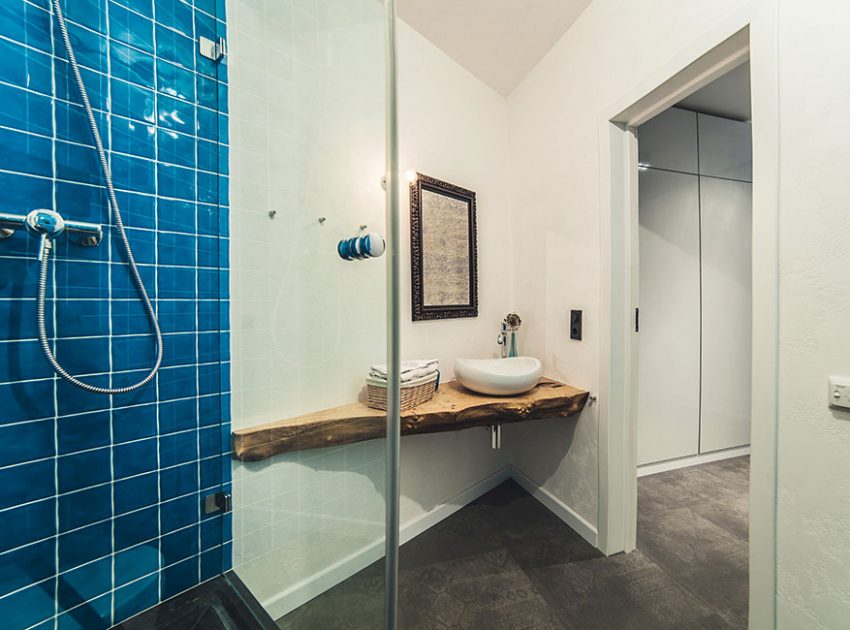 See also: A Lavish Contemporary Apartment Full of Captivating Elegance in New York City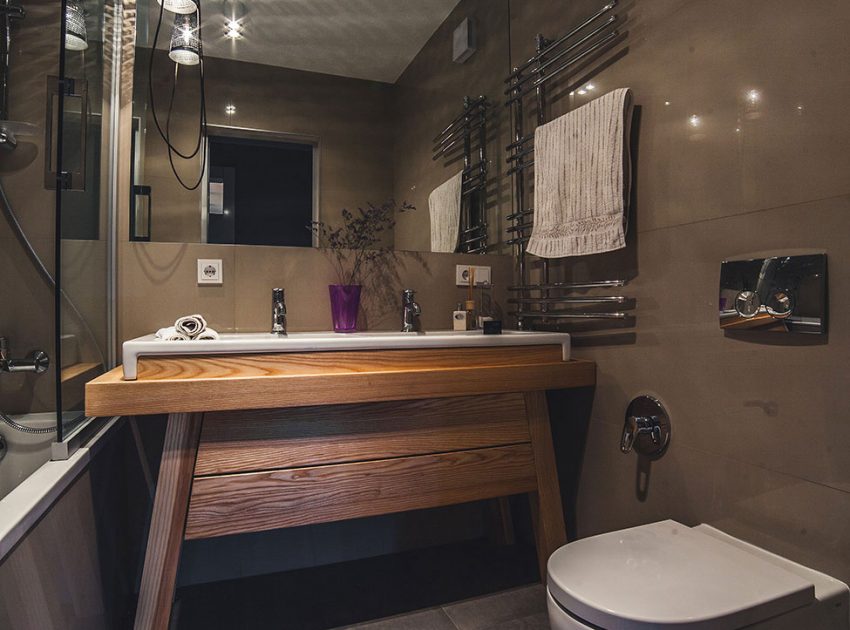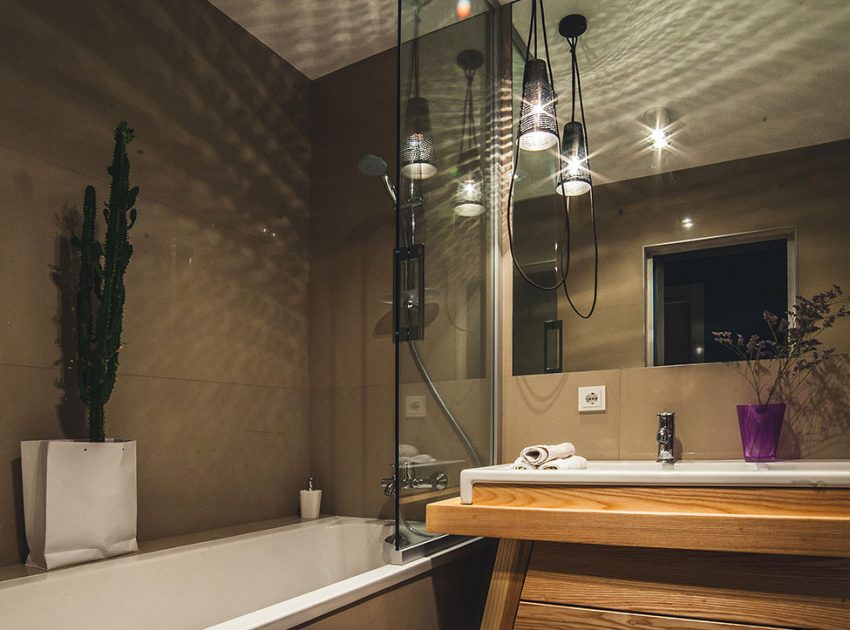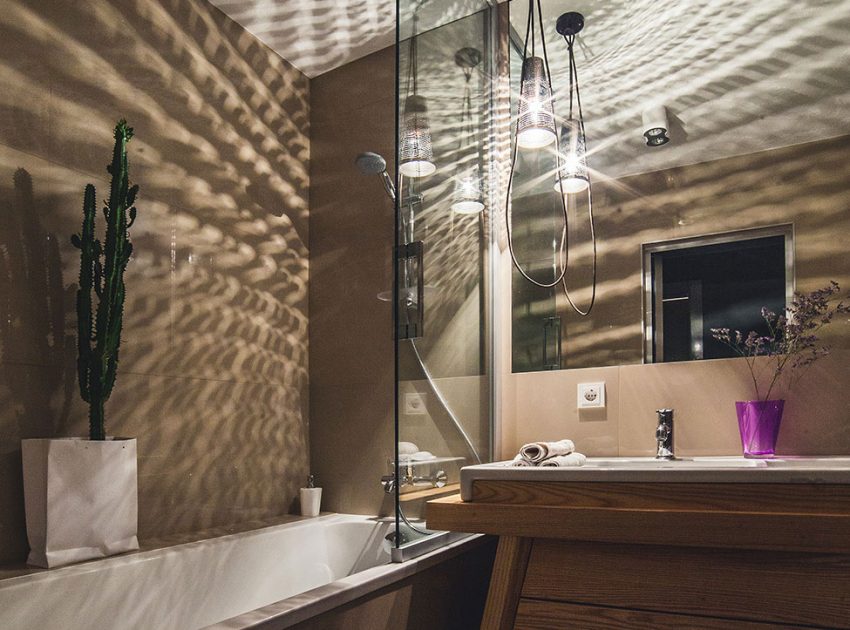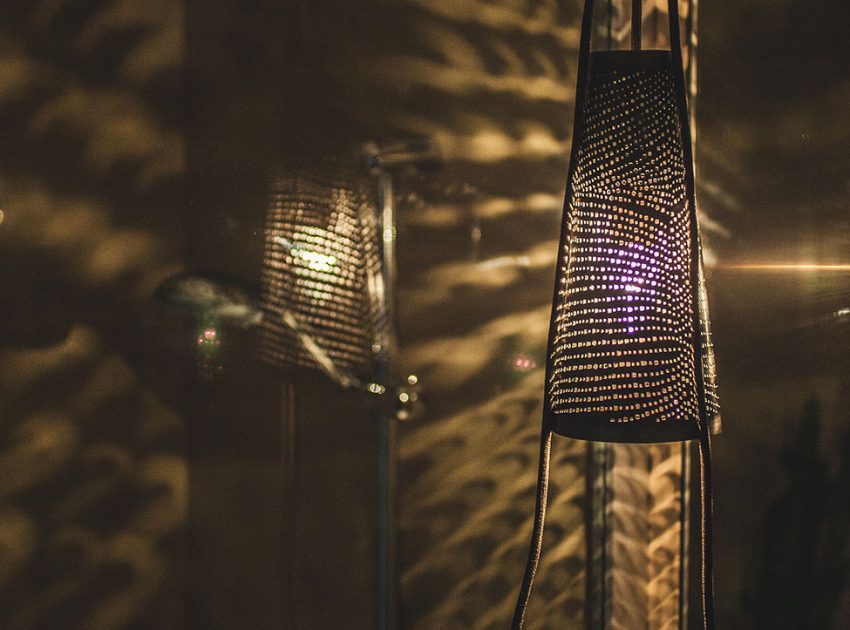 View the complete gallery